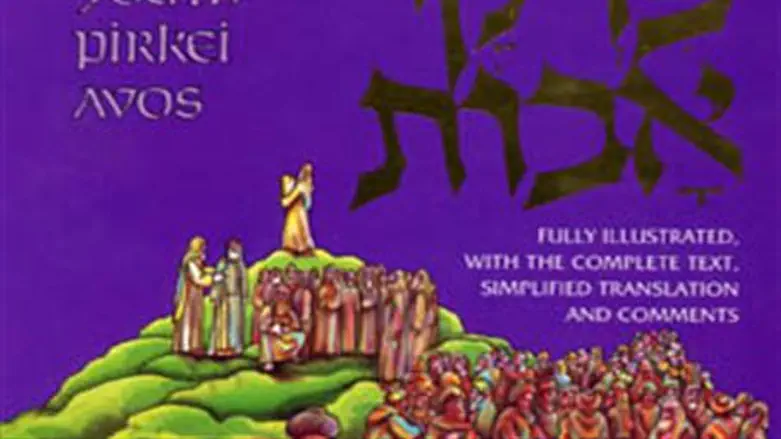 Pirke Avos
Israel news photo: Art Scroll
The first-ever national Ethics of the Fathers (Pirke Avot) quiz will be held in Ariel, located in Samaria, this week as part of Religious Education Week in Israel.
Pirke Avot, also known popularly as Sayings of the Fathers, is a tractate of the Mishna in the Talmud and is probably the most widely studied Talmudic text because of its universal appeal. It is studied by hundreds of thousands of Jews, from all streams of Judaism, particularly in the period between the Pesach and Shavuot (Pentecost) holidays when one chapter of the six in the tractate is read every week on the Sabbath.
"There is great importance in holding this quiz and encouraging the learning of Ethics of the Fathers, which deals with values, proper conduct and good qualities in people", said "Yaki" Sa'ada, director of  education at Givat Washington, located south of Tel Aviv.
Former Israel Chief Rabbi Yisrael Meir Lau and IDF Chief Rabbi Rafi Peretz are scheduled to attend the final quiz, featuring 20 contestants representing 250,000 national religious students.
The finalists won the regional rounds last week, although events in Israel affected the proceedings. The quiz in Jerusalem was delayed by the terrorist bomb that killed one person and critically wounded one other on Wednesday.
The quiz in Ashkelon was interrupted by a terrorist Grad Katyusha rocket attack, which forced the contestants and others to run to a bomb shelter.
Rabbi Tzvi Shinover, who wrote the quiz, said that the students "displayed an amazing depth of understanding and knowledge" in what he called a "life-time experience of knowing the Pirke Avot and the words of generations of sages."
Other events in Religious Education Week include organized students' volunteering to help the needy and a countrywide exhibition by students of their work in art, music and drama.