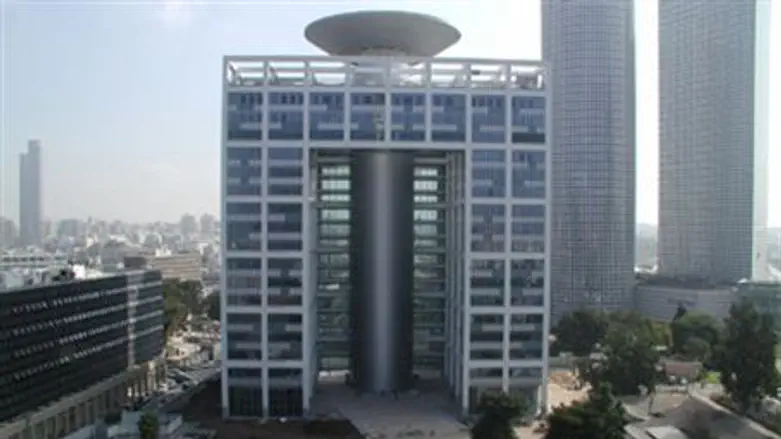 IDF Headquarters (Tel Aviv)
IDF
Israel's military is observing "Earth Hour 2011," the IDF Spokesperson's Office stated from darkened offices on Thursday. As a result, the lights at numerous IDF installations - including the Kirya, Tel Hashomer, and Tzrifin bases - were turned off.
This is the fourth year in which the IDF has turned off lights for "Earth Hour," and the first year a group of officers and soldiers will take part in the main "Earth Hour" concert at Rabin Square in Tel Aviv. Soldiers from the IDF's Technology and Logistics Branch, who are involved in environmental protection and energy conservation on a daily basis, will participate in pedaling the bikes that will provide power to the concert.
On a year-round basis, the IDF conducts activities to protect the environment and conserve energy, by dealing with and preventing hazards, increasing the awareness of soldiers and commanders and using advanced technologies.
The IDF is not alone in observing the event. Fifteen Israeli cities and several major corporations are also participating. The cities taking part in the project this year are Tel Aviv-Yafo, Ashdod, Bat Yam, Yavne, Yeruham, Jerusalem, Kfar Saba, Modiin-Maccabim-Reut, Ness Ziona, Netanya, Petah Tikva, Arad, Raanana, Rehovot and the Tamar Regional Council. 
Earth Hour is a global event organized by the World Wide Fund for Nature, also known as World Wildlife Fund, and is held on the last Saturday of March annually. Organizers ask households and businesses to turn off non-essential lights and other electrical appliances for one hour to raise awareness towards the need to take action on climate change.
Earth Hour was conceived by WWF and The Sydney Morning Herald in 2007, when 2.2 million residents of Sydney participated by turning off all non-essential lights. Following Sydney's lead, many other cities around the world adopted the event in 2008. In Israel, fifteen  
Earth Hour 2011 is scheduled to take place on March 26, 2011 from 20:30 to 21:30, at participants' respective local time. Israel however, due to the Sabbath, observed Earth Hour on March 24th from 20:00-21:00.
Israel National News produced this article with the lights off.