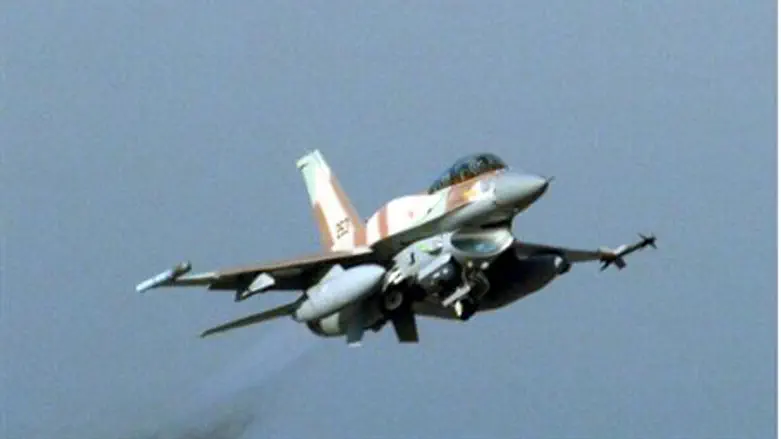 IAF F-16 fighter jet
Israel news photo: IDF
Security alerts are high on both the southern front and in Jerusalem. Police in the capital have raised their level of alert, following yesterday's terrorist bombing near the Central Bus Station that killed a British tourist.
In the south, Hamas terrorists continue to fire rockets at Israel. A Kassam exploded south of Ashkelon around 8:00 this morning, following a rocket fired overnight towards the Eshkol region; no one was hurt or damage caused in either attack.
In response to the ongoing rocket fire, Israel Air Force (IAF) aircraft targeted a smuggling tunnel in the southern Gaza Strip and a terror activity site in northern Gaza. The army reported direct hits.
Just in the past four days alone, over 25 rockets and mortar shells have hit Israeli territory, including five Grad rockets fired at the cities of Ashkelon, Ashdod and Be'er Sheva. As a result, schools in those three cities are closed. This is official city policy in Ashdod and Be'er Sheva, while in Ashkelon, the closings were a Municipal Parents Committee decision, made contrary to official city policy.
Minutes before Prime Minister Binyamin Netanyahu boarded the plane last night on his way to an official visit to Moscow, he said, "The government has set a clear security policy – a policy of both attacking and preventive measures against terrorism. We have had two years of quiet because of this policy, and the citizens of Israel were able to walk around without fear. There are those who are trying to end this quiet and test our determination, and they will find that the Israeli government, army and public have an iron will as well as the ability to defend ourselves. We will act with force and responsibility to restore the quiet that we have had for the past two years."
Netanyahu became Prime Minister almost exactly two years ago, on Mar. 31, 2009.