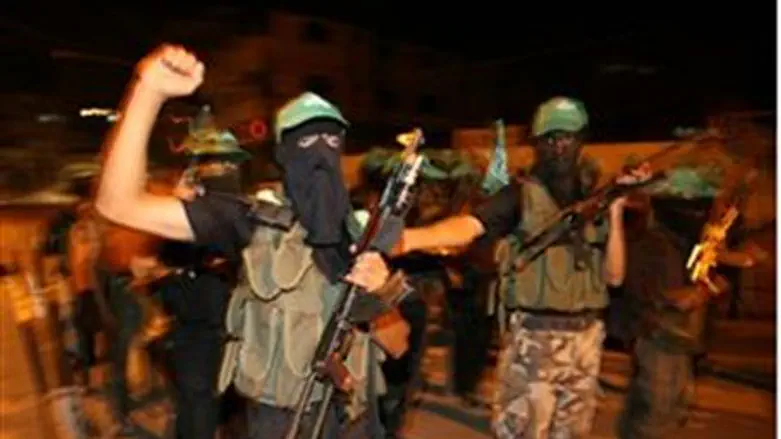 Terrorists
Israel news photo: Flash 90
Arab terrorists murdered five people in a family in the Jewish community of Itamar, in northeast Samaria, around 9 p.m. Friday night.
Click here for photos of the murder victims that were released by the Fogel family, who gave full permission for their use in order to report on the horrific reality of murdering children and babies in their sleep "simply because they are Jewish." Warning: These photos are extremely graphic and not intended for children.
The only survivors were a 12-year-old girl, who returned from a Bnei Akiva youth group event to discover her parents and three of her brothers and sisters,including a three-month old baby girl, dead in pools of blood, and two younger brothers, who were sleeping a separate room.
The IDF is searching for the murderers, who broke through a window and murdered the victims in their beds. 
Officials immediately began a "blame game," with Prime Minister Binyamin Netanyahu faulting Palestinian Authority incitement in schools and mosques. Voice of Israel government radio actually implied that Itamar residents themselves were responsible for improper security, an accusation which has since been refuted.
The barbaric murders followed dozens of warnings from nationalists and leaders in Judea and Samaria that the constant easing of security procedures implemented by Defense Minister Ehud Barak would be the prelude to terrorist attacks.
The army is investigating the attack, but it already is known that the security fence did not include cameras and other equipment requested by Itamar, according to Shomron (Samaria) Regional Council Chairman Gershon Mesika.
An electronic warning system at the fence did not function. Voice of Israel government radio openly questioned whether Itamar was not to blame because it was aware that the fence was sub-standard.  However, it was the IDF that did not upgrade it.  Voice of Israel also reported that there was a general warning of a terrorist attack and that Itamar security officials allegedly did not relay the information to the Israel Defense Forces. This was found to be untrue, as it was later was confirmed that there was only a general warning of an attack without any specific indication that Itamar was to be targeted.
The United States, which has pressured Israel to ease security procedures, condemned the attacks and offered its condolences to the survivors and "to the Israeli people." It urged the Palestinian Authority to "unequivocally" condemn the murders.
A statement by PA Prime Minister Salam Fayyad simply stated, "We are against violence and condemn it regardless of the circumstances, identity of the victims or the goals," but he did not state that the PA would help search for the perpetrators.
He also did not condemn the Al Aqsa Martyrs Brigade, which took responsibility for the attack. In a statement to the media, the terrorist cell of the Fatah faction headed by PA Chairman Mahmoud Abbas claimed that the attack was a "heroic operation, part of the natural response to the massacres of the fascist occupation against our people in the West Bank and Gaza Strip."
Earlier, Palestinian Foreign Minister Riyad al-Maliki condemned the attack but implied that Palestinian Authority Arabs were not involved. "No Palestinian in the past killed an infant and butchered people in such a way based on a nationalistic or vengeful motive," he said. "This raises doubt as to Israel's rush to accuse the Palestinians of committing this act."
MK Dr. MIchael Ben-Ari, speaking on Radio Kol Chai shortly after the end of the Sabbath, said that the terrorists gain impetus when they see hundreds of Israeli police deployed to destroy houses in outposts such as the recent Gilad Farm (Havat Gilad) incident where plastic bullets were used against Jews, roadblocks leading to and from Arab villages removed and Jewish construction effectively frozen, all actions implemented under the control of Defense MInister Ehud Barak that have the tacit approval of Prime Minister Netanyahu.
Foreign Minister Avigdor Lieberman said that Israel would file a complaint with the United Nations. "Israel is expecting to hear a strong condemnation from all democratic states which in the name of human rights hurry to denounce every caravan movement in Judea and Samaria but as of last night have yet to condemn the heinous murder of an entire family, including a three-month-old baby," he stated.