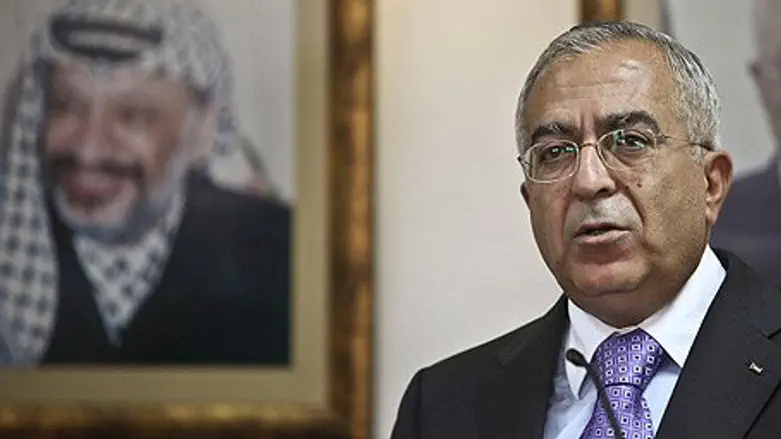 PA PM Fayyad with PLO Chairman Arafat on wall
Israel news photo: Flash 90
The Palestinian Authority has rejected another compromise, this time concerning an Israeli military presence in the Jordan Valley.
Quickly responding to Prime Minister Binyamin Netanyahu's statements Tuesday that an Israeli military presence in the strategic area is Israel's "insurance policy" against terrorism, PA Prime Minister Salam Fayyad stated, "There is no independent Palestinian state without the Jordan Valley."
Underlining his dismissal of any compromises on PA demands, he added, "The Jordan Valley is as integral to Palestine as is Jerusalem."
Israel and the Palestinian Authority's positions on the Jordan Valley have been stated previously, but their importance gains more significance as the lengthy "diplomatic chess match" between Israel and the Palestinian Authority advances with fewer options remaining on the board.
Prime Minister Netanyahu's aides last week leaked word that he will propose a new initiative, but Fayyad and PA Chairman Mahmoud Abbas already heave rejected any interim agreement. The PA has stated that all of its demands must be accepted before it will sit down with Israel for "negotiations."
 Abbas, visiting Britain, also reiterated his determination for establishing the Palestinian Authority as an independent country without compromising its demands." We will never accept to negotiate an interim state, and we insist on an independent Palestinian state, Jerusalem" and all of Judea and Samaria.
Britain supported last month a United Nations Security Council resolution, vetoed by the United States, that would have condemned Israel for building for Jews in Judea and Samaria.