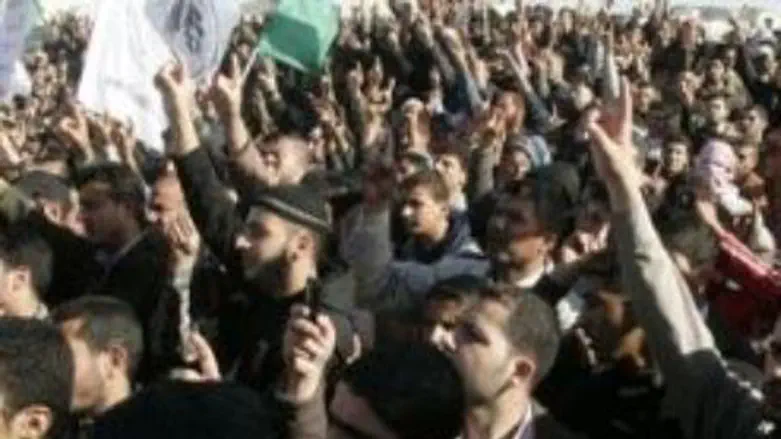 Gaza
Israel news photo: Flash 90
Palestinian Authority Arabs in Gaza held protests against their Hamas rulers Monday demanding a unity government with Fatah. Hundreds of demonstrators took to the streets, including youths who waved signs that read "Haniyeh and Abbas – We want national unity!"
There is no information as to how Gaza's ruling terrorist organization, Hamas, has responded to the protests.
Twin Protest for Unity in Ramallah
The protest echoes a similar demonstration in Ramallah by some 1,000 PA Arabs on February 17, organized primarily through Internet social networking sites such as Facebook and Twitter.
Badur Zamara, one of the organizers who works for a group called the Sherek Forum, said in Ramallah that protesters plan to keep the pressure up with "Egyptian tactics" in an effort to force PA leaders to reconcile their differences.
Protesters at the Ramallah rally waved PA flags and held up banners that said, "The people want an end to division!"
Organizers of the two events coordinated their efforts, according to a source quoted by an AFP reporter.
Abbas in UK for Talks on 'Israeli Intransigence'
Meanwhile, PA Chairman Mahmoud Abbas arrived in Britain late Sunday for talks on the "peace process" with Israel.
Abbas was scheduled to meet today (Monday) with Prime Minister David Cameron and Foreign Secretary William Hague before heading to Denmark.
According to a spokesman quoted by AFP, Abbas planned to discuss "ways to support and promote the peace process in the face of Israeli intransigence and continued settlement activity, which has stalled the negotiations."