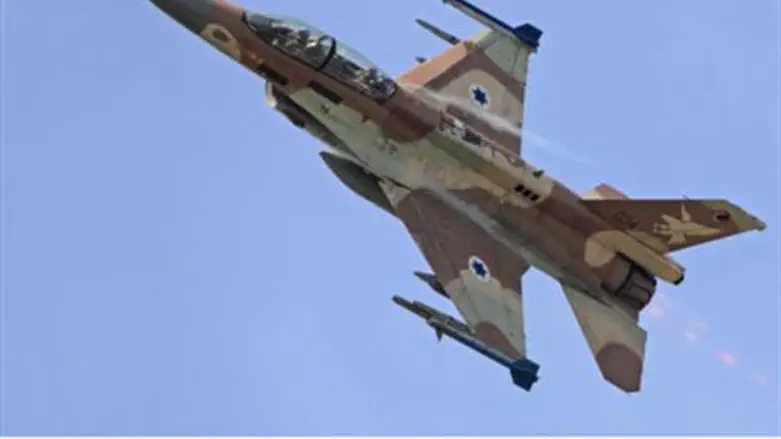 IAF F-16 (file)
Israel news photo: Flash 90
The Israel Air Force Communications Unit is launching an International New Media program targeting the English speaking world, which will include a constantly updated website, Facebook page and Twitter feed. The unit will be under the aegis of IAF Spokesperson Lt. Col. Assaf Librati, reports IAF Online Communications.
Explaining the rationale for the new initiative, Lt. Col. Librati said, "The Israeli Air Force is a center of profound research, international cooperation, immense diversity, and advanced technology within the Israel Defense Forces. We believe that we have much to share with the world about who we are, what we do, our capabilities, and our ongoing participation in humanitarian operations around the world. Starting this year, the IAF will add a fully operational English website, Facebook page, and Twitter account to our regular means of communication. We see this as a force multiplier and an important step forward in communicating about Israel, the IDF, and the IAF directly with stakeholders around the world."
The International New Media program will be run by Major Yael Bar, Director of Online Communications and Editor in Chief of the Israeli Air Force Magazine. Major Bar said, "The IAF's online presence, including a Hebrew website and Hebrew Facebook page, was launched in 2010 and has grown to be very successful with thousands of unique viewers each week from Israel. Our experience has shown us that the people, operations, and capabilities of the IAF are of growing interest not just to Hebrew speakers, but also to the international community. This is why we are launching a robust online presence in English for 2011."
The program will leverage the existing staff 20 writers, photographers, videographers and editors who support the entire IAF Communications Unit. Recruited to advise and manage the launch of the new unit for the IAF Communications Unit for a period of six months is Private Stephan Miller. Miller, who immigrated to Israel from the United States in 2008, has a background as an international political and communications consultant, and has advised politicians and political parties around the world in new media and communications.
Miller, who served as the Foreign Media Advisor and Spokesperson to Jerusalem Mayor Nir Barkat before being recruited by the IAF, commented, "Conversations about Israel today, and certainly the operations and capabilities of the IAF, are no longer limited to traditional media. The IAF, especially Lt. Col. Librati and Major Bar, understands the importance of participating and influencing these online conversations as well as the great opportunity to share our messages directly with people around the world. As a recent immigrant to Israel, nothing makes me prouder than putting on the khaki uniform of the Israeli Air Force, knowing that in a small way, I am helping the Israeli Air Force and the State of Israel communicate better with the international community."
The International New Media program can be found at the IAF website, on Facebook.