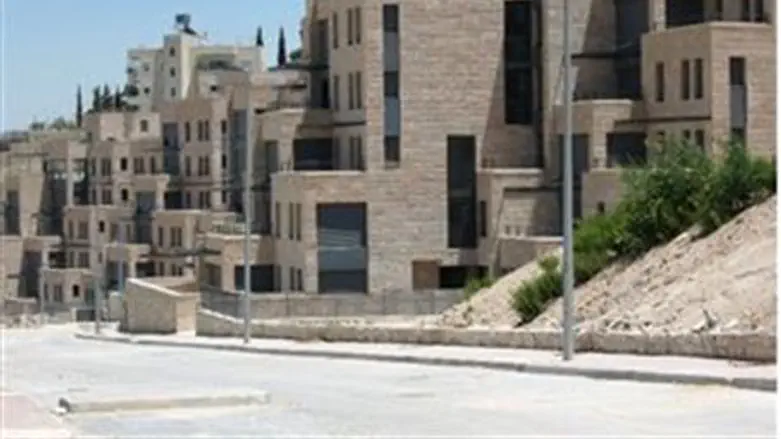 Nof Tzion
Haggai Huberman
Bank Leumi, the main creditor of Jewish neighborhood Nof Tzion's developers, has rejected an offer by Rami Levy and a partner to pay off its debts – and as a result, an Arab takeover again threatens the seamline Jerusalem area. Rabbis threaten a local boycott of Bank Leumi, and American Jews threaten a boycott abroad. 
In light of the Bank Leumi rejection, Palestinian Authority semi-resident Bashir Al-Masri, represented by the same lawyer who advised Ariel Sharon during the Disengagement, Dov Weisglass, has redoubled his efforts to buy the lands of Nof Tzion.
Located to the east of Talpiyot and south of the Old City, the neighborhood was originally planned as a luxury project for wealthy apartment-seekers from abroad. When this did not pan out, the project was saved by the religious-Zionist public, for which its strategic spot, in terms of both Jewish-Arab demographics and a panoramic view of the Temple Mount and the Old City, increased its attractiveness. Thus, a new religious-Zionist neighborhood arose in eastern Jerusalem. 
The first phase of the project was completed several years ago, and much has been written about the 90 families' satisfaction with their new neighbors and surroundings. However, they are now greatly apprehensive that if the project falls into Arab hands, the 180 planned units of Stages II and III of the project will not only not be built, but also that their own homes will become an unsafe and unviable Jewish enclave surrounded by Arab homes.
They have therefore threatened to take Bank Leumi – the guarantor of the project – and the Digal development company to court for backing down on their much-touted plans to ensure that the project is for the national-religious public.
Bank Leumi Rejects Levy, Wants to Break Up Digal
Bank Leumi has rejected Levy's offer, saying that it prefers to break up Digal altogether and sell its assets – including the land of Nof Tzion – to the highest bidder. This once again leaves the field open to Al-Masri. Al-Masri has also taken another step, seeking to buy out the shares of Digal.
A letter of intent to boycott Bank Leumi has already been signed by top rabbis in the religious-Zionist camp.
Rabbis Shmuel Eliyahu, Elyakim Levanon, Yehoshua Shapira, Zalman Melamed, David Druckman, Dov Lior, Yaakov Yosef and others issued a call to Bank Leumi customers to withdraw their monies if the project is sold to Al-Masri. The rabbis call on Bank Leumi to "support and accept the offer by Jewish interests to purchase the neighborhood lands and to save it from Bashir Al-Masri, who does not hide his intentions to build on Nof Tzion an Arab outpost in Jerusalem."
Globes has reported in the past that if Bank Leumi would enable the sale of the Nof Tzion project to Al-Masri, it would be likely to face a widespread boycott in the United States. Several apartment owners in the project wrote to Bank Leumi as follows: "I have been involved in this project ever since it was presented to the public some eight years ago, and I am in contact with many of its American investors. These people have power and are very influential in their communities. We were under the impression that Bank Leumi would never work against the People of Israel - but we are now quickly concluding that this is not true. It appears that Bank Leumi is taking part in an act of treachery in allowing secret deals that will lead to the sale of Nof Tzion properties to Arab interests."