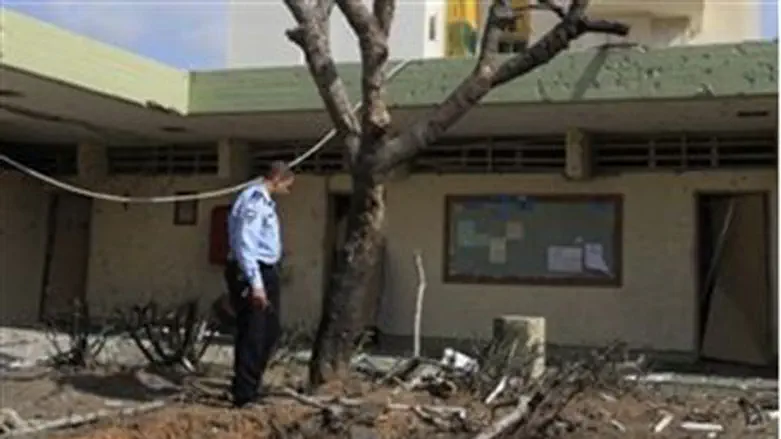 Aftermath of Grad rocket attack (archive)
Flash 90
Gaza terrorists fired two Grad rockets at Be'er Sheva on Wednesday evening. The rockets hit the city. One rocket exploded in a building and caused heavy damage to the place. Police forces are scouring the area trying to locate the second rocket.
Six adults and four children were taken to Soroka Hospital in Be'er Sheva after suffering from trauma following the explosion, the hospital spokeswoman said.

The attack was the first of its kind since the conclusion of Operation Cast Lead in early 2009. It follows a steady trend of escalation of terrorism in Gaza. During Cast Lead terrorists hit Be'er Sheva seven times, causing injuries and massive damage to property.
In response to the attack on Be'er Sheva, the IAF targeted a terrorist squad in the Northern Gaza Strip a short time after the attack, in the same location from where the rockets had been fired towards. A direct hit was confirmed.

The IDF noted that it "will not tolerate any attempt to harm Israeli civilians or IDF soldiers, and will continue to respond harshly to terror. The IDF holds the Hamas terrorist organization solely responsible for maintaining the calm in the Gaza Strip and for any terrorist activity emanating from it."

On Wednesday morning Gaza terrorists fired five mortar shells at soldiers and civilians in the Negev. The IDF responded by firing on several terrorists, injuring them. One of the terrorists later died of his injuries.

While Hamas initially claimed that the wounded terrorists were in fact civilians collecting building material, the deceased man has been claimed by Islamic Jihad as a member of the terrorist group.

Terrorists in Gaza have been escalating their attacks on Israel for several months. In November, terrorists fired on Ofakim for the first time since Cast Lead; attacks on Ofakim and Netivot continued in January. Terrorists also began using phosphorous rockets.

In early January, terrorists fired on Ashkelon, hitting greenhouses near the city.