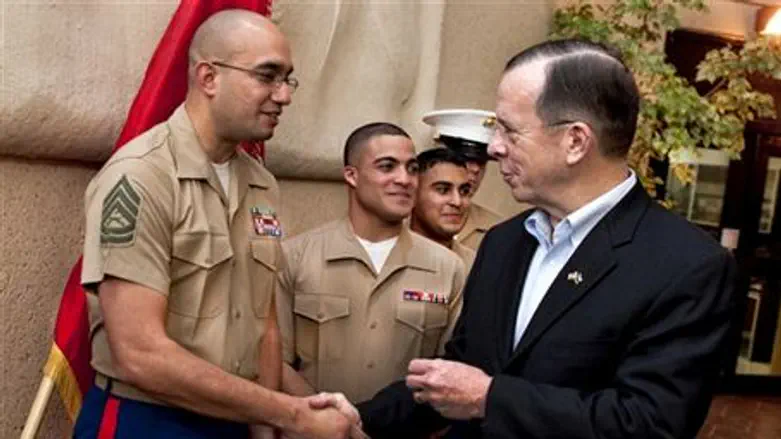 Mullen Greets Marines at embassy in Saudi Ara
Israel news photo: US Defense Dept.
U.S. Chairman of the Joint Chiefs of Staff (CJCS) Mike Mullen, on a pre-planned visit to the Middle East, says he is "stunned" by the pace of upheavals in region. He is touring Saudi Arabia and the Gulf States.
The visit is the second time this month Mullen has flown to the Middle East, having traveled to Jordan on February 12 in order to take part in a farewell ceremony in Israel for outgoing IDF Chief of Staff Gabi Ashkenazi. U.S. Defense Department spokesmen said that Mullen is addressing the turmoil in the region, although his trip was planed before the uprising dynamo began in Tunisia several weeks ago.  
"The speed with which this has happened has really taken me aback," Mullen said of unrest that has moved through the region. "And I think this speed is going to continue."
Admiral Mullen plans to meet with leaders in Saudi Arabia, Qatar, United Arab Emirates, Kuwait and Djibouti to discuss a broad range of security issues. His visit to Kuwait next week will coincide with the oil-rich country's 50th anniversary of independence and the 20th anniversary of Operation Desert Storm, when American-led coalition forces liberated Kuwait from six months of Iraqi occupation on Feb. 26, 1991.
He said he comes to the region bringing no message to any particular group, but rather to reiterate the U.S. interest in seeing differences resolved peacefully. "We would certainly like to see what happens happen in a nonviolent way," he told reporters traveling with him. His trip is expected to wrap up next weekend in Kuwait City. 

The United States and Saudi Arabia have had strong military relations since World War II, and U.S. advisors continue to help in training the Saudi military and national guard. Saudi Arabia is one of the largest customers for U.S. defense goods.
Mullen's last extended visit to the region was in February 2010, when he made stops in Egypt, Israel, Saudi Arabia, Jordan and the United Arab Emirates.