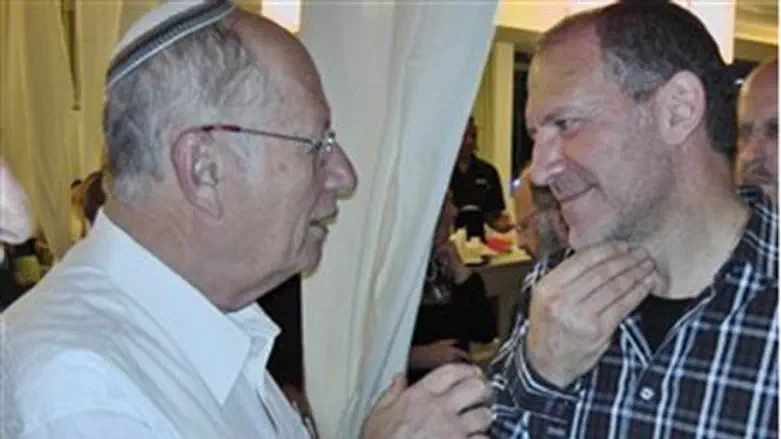 Kevin Bermeister
Hezki Ezra
Australian businessman Kevin Bermeister is in Israel to introduce his new program to attract tourists to Jerusalem.
Bermeister is the founder of several large companies in the field of computers, the Internet and multimedia. He founded Ozisoft, set up a giant technological theme park in Australia and was a partner in establishing Skype.
Bermeister took part in a rabbinical conference marking the 50th anniversary of the Ariel Institute. During the conference he presented his new project entitled "Jerusalem 5800", which is currently being worked on by a team of experts including city planners, tourism experts, economists, public figures, experts in archeology, and academics.
"This is the first time that we've published project 5800, which is a long-term plan for Jerusalem, looking over the next 30 years," Bermeister told Israel National News TV. "This is a very unusual plan and every major city in the world has such a big plan."
Above all, explained Bermeister, the goal of the project is to bring more tourists to the Holy City.
"Tourism is our most important element of the plan," he said. "It is the engine that drives the economics of the plan. We look at moving people from the outer region of Jerusalem to the center."
Bermeister made headlines recently when he purchased the land of Nof Zion. At the last moment, before the land was acquired by an Arab investor, Bermeister, along with businessman Rami Levy, submitted a higher bid and now the neighborhood will continue to build Jewish homes. Bermeister made it clear that even without the Zionist consideration, the economic considerations were enough to lead him to the Nof Zion deal.
"We are looking at this as important property because it's on the southern route to Hevron from Jerusalem," he explained. "What we're looking at doing is continuing to resolve all the issues as we move forward, and our intention is to begin construction as soon as we possibly can."
Bermeister emphasized that "Jerusalem 5800" will help both Jews and Arabs as well as bring calm to the region.
"We focus in our plan primarily on economics," he explained. "We don't really care about Arab or Jew. It makes no difference. Our real issue is improving the prosperity for the people who live in Jerusalem and in Israel generally. We believe that the prosperity will be improved through the increases in tourism but also through the development of infrastructure that's required to support such an increase in tourism."
Bermeister noted that "the end plan is to build a beautiful city that is a Jewish city, culturally rich, attracting tourists in every year, giving people a very good feeling for being in the city, encouraging them to come back to the city, and connecting the city with all the other regional centers around it."