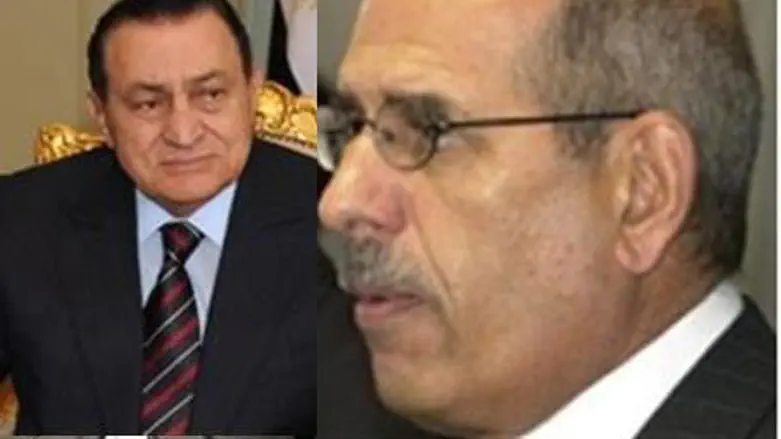 Mubarak and ElBareidi
Israel news photo montage
Egyptian uprising idol Mohammed ElBaradei has ordered Egyptian President Hosni Mubarak to leave the country by Friday – or he will be a "dead man walking" and not just a lame-duck president.
The aging Egyptian leader, reportedly suffering from cancer, insists he will remain in power. He said Tuesday night, "This dear country is my country ... and I will die on its land."
Mubarak dramatically announced he will not run in September's presidential elections, but shortly afterwards, U.S. President Barack Obama dealt him a stinging slap, stating that a transition to a new government should begin "now."
In addition, he sent a senior diplomat to meet with ElBaradei.
Massive rallies that took place in Cairo and in Alexandria on Tuesday were free of the police brutality that had killed anywhere between 70 and 300 people, depending on whose estimate is believed, in the early days of the rioting. Addressing Mubarak's speech, ElBaradei told the crowds that a huge protest to be held on Friday, the Muslim day of rest, will become "the Friday of departure" for Mubarak.
He rejected the president's announcement as "too little too late," and is counting on a continuation of the momentum that has swept the country, spread to Jordan, Yemen and Syria and worries the Palestinian Authority.
The radical Muslim Brotherhood has become more vocal in its calls for Mubarak's resignation, drowning out several opposition groups that have accepted an offer by newly-appointed vice president Omar Suleiman to negotiate.
ElBaradei, who won the Nobel Peace prize while heading the United Nations nuclear watchdog agency despite his defense of Iran's nuclear development, accused Mubarak of trying to deceive the country by not resigning immediately. ElBaradei has said that he is not necessarily interested in replacing Mubarak.
Although the president said he will not run for re-election, he did not mention the name of his son Gamal, who has been groomed to be his successor. Gamal and his family reportedly fled the country last week when it was clear that the protest movement was becoming a threat to his father's regime.
Working against Mubarak is President Obama's decision to instruct U.S. ambassador to Egypt Margret Scobey to speak with ElBaradei. The move was "part of our public outreach to convey support for an orderly transition in Egypt," according to U.S. State Department spokesman Philip Crowley.
President Obama earlier said in reaction to Mubarak's speech that an "orderly transition must be meaningful, it must be peaceful, and it must begin now."
He also sent former ambassador to Egypt Frank Wisner, a personal friend of Mubarak, to Cairo to report back on the situation.