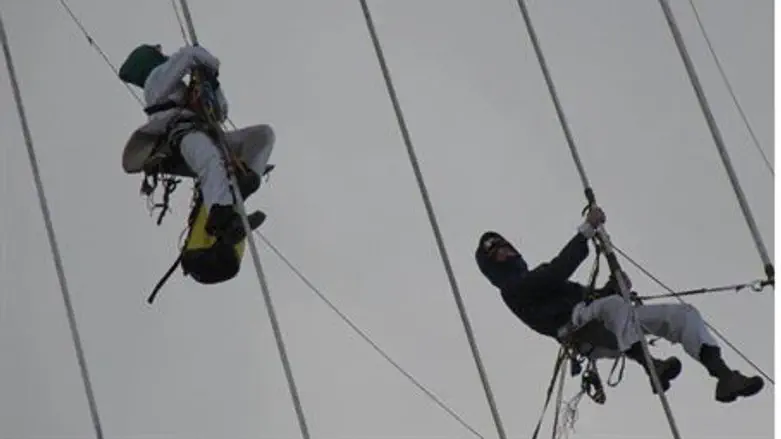 GreenPeace Activists Climb Jerusalem Bridge
Netanel Asaraf, News24
Five Greenpeace activists climbed the Jerusalem Chords Bridge located at the entrance to the city on Sunday, in order to protest the Israeli government's intent to establish a coal-fired power plant in Ashkelon.

The activists climbed the bridge at dawn using a special method. The Chords Bridge was chosen as its strings are clearly visible from the Prime Minister's office. The timing chosen for the act was part of the plan, right before the weekly cabinet meeting.  The activists hung a huge banner on the strings which read: "Bibi, stop the coal-fired power plant."
For more than seven years Greenpeace has been conducting a relentless struggle against the Israel Electric Company and the Ministry of Infrastructure's initiative to establish a coal-fired plant in Ashkelon. In recent months, following the discoveries of the large amounts of natural gas in the offshore drilling on the "Tamar" and "Leviathan" fields, the Infrastructure Minister has stated that another power station should run on gas rather than polluting coal.
In the coming days, Finance Ministry Director-General Haim Shani, who serves as chairman of a committee that examined the coal issue, is expected to submit recommendations to the government. Greenpeace hopes that Shani has taken into account in his recommendations the catastrophic results of another power station, which would endanger the health of the residents of Ashkelon and would contribute to an increase of over 10 percent in the greenhouse gas emissions in Israel.
But no matter what the recommendations, Greenpeace says that the final decision on the fate of the citizens of Israel lies with Prime Minister Binyamin Netanyahu. The organization urges him not to approve the coal-fired power plant.
Greenpeace spokeswoman Hila Krupsky said on Sunday: "There is no reason to approve a third coal-fired plant in Israel. Greenpeace has been calling for seven years on the Israeli governments to promote, like the rest of the world, the use of renewable energy such as solar power. Today we can use gas as a fuel passage to meet the expected rise in demand in the coming years, until there is a real infrastructure to provide power from solar and wind energy. We are here today at the Chords Bridge to speak directly to the Prime Minister and remind him that coal burning is a major cause of pollution, of morbidity and of accelerating the phenomenon of climate change and global warming."
Krupsky added that "in the last year alone we have witnessed extreme weather, drought, and lack of rainfall. In December, we experienced the terrible fire in the Carmel that was of monstrous proportions because of the dryness throughout the year. Today we cannot ignore the phenomenon of climate change and it is our responsibility to curb the symptoms of these dangers. Binyamin Netanyahu, as the person who heads the state, the responsibility is on your shoulders."
Photos by: Netanel Asaraf, News24