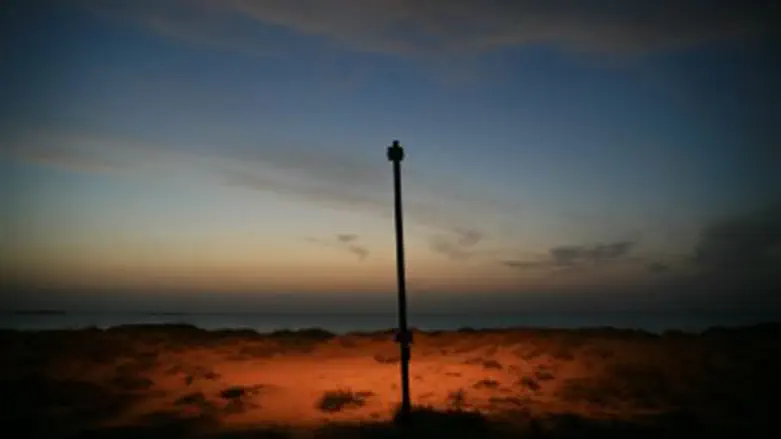 Lebanon-Israel border at Rosh Hanikra (file)
Israel news photo: Flash 90
Less than a week after a United Nations spokesman said the international body would stay out of the issue of the maritime border between Israel and Lebanon, the U.N. has reversed itself.
U.N. Special coordinator for Lebanon Michael Williams told reporters Monday in Beirut the country was entitled to benefit from its natural energy resources. He added that the U.N. would help the country mark its maritime border with Israel as a means of ensuring that Israel did not prevent Lebanon from developing its natural reserves.
The comment followed on the heels of a statement by U.N. spokesman Martin Nesirky last week who said the demarcation of maritime boundaries between Israel and Lebanon falls outside the United Nations' purview.

"We are talking about two different things: coastal waters and a disputed boundary," the spokesman said on Wednesday. He pointed to the mandate of the U.N. Interim Force in Lebanon (UNIFIL) under Resolution 1701 as a guideline for the decision.
The statement came in response to a request sent by Lebanon to U.N. Secretary-General Ban Ki-moon, asking him to stop Israel from any further drilling for offshore gas and oil reserves in its northern coastal waters.
Beirut claims that Israel's most recent discovery, the mammoth Leviathan gas field, comprising some 16 trillion cubic feet of gas, is at least partly located in Lebanese waters. Israel denies the claim.
The letter sent to Ban by Lebanese Foreign Minister Ali Shami asked him to "do everything possible to ensure Israel does not exploit Lebanon's hydrocarbon resources, which fall within Lebanon's economic zone and delineated in the maps the foreign ministry submitted to the United Nations in 2010."
No formal naval border exists between the two countries, nor has any international committee been established to negotiate one.