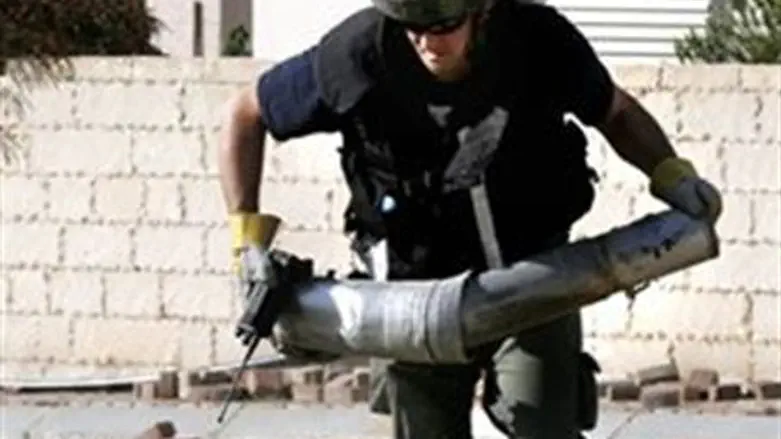 Kassam rocket
Israel news photo: Flash 90
Arabs in Gaza fired three short range "Kassam" rockets at Israel early Monday evening. The rockets exploded within the limits of the Ashkelon Coast local authority. No one was hurt and no damage was reported.
Gazan terrorist attacks against Israel have become daily occurrences over the last few weeks, and a marked escalation was felt this week, with mortar shells wounding civilians on the Israeli side and an Israeli soldier
killed during fighting
with a terror squad.
Vice Prime Minister Silvan Shalom called the latest shelling "very serious," and said it was the result of infighting between Hamas - which controls Gaza - and the Fatah-ruled Palestinian Authority that rules the central mountains of the Land of Israel (Judea and Samaria). "Hamas is opposed to the Authority's attempts top receive international recognition and is sabotaging the peace process," the former foreign minister told IDF Army Radio.
Arab sources claimed that an Arab man was killed by IDF fire near the Erez crossing between Gaza and Israel Monday. There was no confirmation of the incident from the IDF. 
An Arab terror rocket exploded Sunday within the limits of the Eshkol local authority. No one was hurt. On Saturday, a truck driver was lightly hurt when Gazans fired a mortar shell that exploded within the Eshkol local authority.