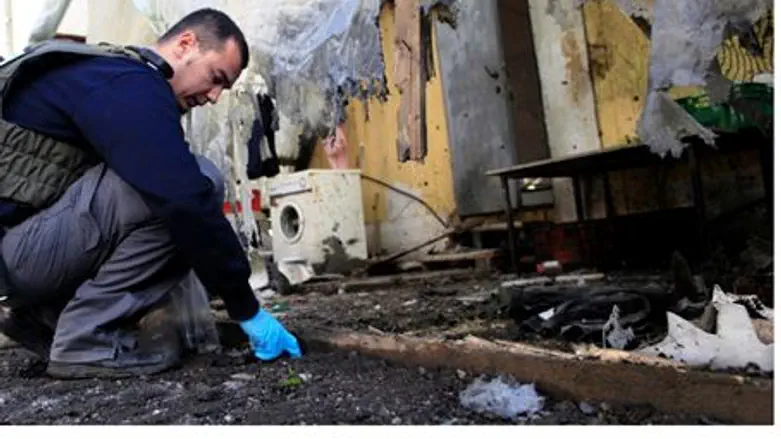 Examining mortar damage
Israel news photo: Flash 90
A trucker suffered mild shrapnel wounds in a Kassam attack launched by Gaza terrorists Saturday night. The short-range rocket exploded close to the trucker's vehicle in the Eshkol Regional Council district of the Gaza Belt.
The explosion was the second of three that hit the Eshkol region over the weekend; earlier in the day, a similar Kassam rocket had struck an open area in the district, and later Saturday night, a third one slammed into a field. No one was wounded and no damage was reported in either of the other two attacks.
Elsewhere in the south, Gaza terrorists launched a mortar attack on a kibbutz in the Sha'ar HaNegev Regional Council district, wounding three Thai workers. 
IDF GOC Southern Command Maj.-Gen. Tal Russo traveled Saturday night to the area to reassure the kibbutz members and their foreign workers who had been targeted by terrorists in the afternoon attack. One suffered serious chest wounds, a second worker was moderately wounded and a third sustained light shrapnel wounds.
"The army is currently handling the incident on the operational level," Russo told the community.  He promised kibbutz members and foreign workers that the terrorists behind the attack "will be dealt with."
Israel maintains a policy of retaliating for each and every attack from Gaza.
Last Thursday the Air Force retaliated for missile fire on the western Negev by attacking a terrorist target in northern Gaza and a terrorist tunnel connecting southern Gaza with Israel.

Two days earlier, on Tuesday Gaza terror rockets damaged Israeli greenhouses on a farm near Ashkelon. The Air Force responded by bombing a Hamas terrorist training base.
Islamic Jihad's military wing, the Al-Quds Brigades, claimed responsibility for the attack, and for an additional round of mortar fire launched on Saturday night.
Russo also noted that the investigation is continuing into Friday's exchange of fire with terrorists on the central Gaza border, in which 20-year-old Sgt. Nadav Rotenberg was killed, and which initially appeared to be a case of friendly fire. "The incident is being investigated," he said. "Soon we will have answers."