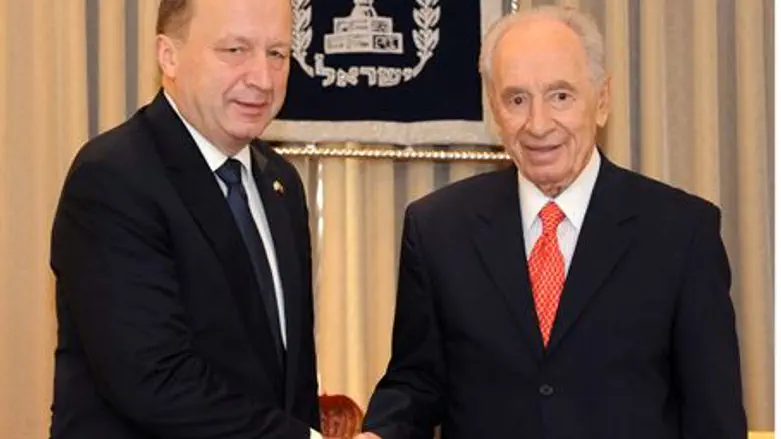 Peres and Lithuanian PM
Israel news photo: Flash 90
Rabbi Yisrael Rosenson of Efrata Teachers College says that he can understand why Dr. Efraim Zuroff, head of the Jerusalem branch of the Simon Wiesenthal Center, would take exception to his opinion that something has changed - for the better - in the attitude of the Lithuanian people to the Jews. "But after years of research and experience, I really do think that this change is real," he told Israel National News.
In a discussion that has brought to the fore what is still clearly an open wound in the soul of the Jewish people, Rabbi Ronsenson, in an interview last week, said that after years of researching the country's role in the Holocaust and leading groups on historical tours of the country, he could sense that a major change had taken place, at least among certain segments of the Lithuanian people.

Pointing to several research institutions dedicated to Holocaust research, an annual Holocaust Memorial Day, and an apology by the Lithuanian government over a decade ago for its role in the Holocaust, Rabbi Rosenson said that "it seems to me that at least some elements of the country's society are making a very sincere effort to reevaluate their behavior, to make an honest accounting of their crimes against the Jews." Lithuania, he said, extends much honor to those who helped protect Jews during the Holocaust, and the country maintains an embassy in Israel, despite the fact that it costs a great deal of money, and that Lithuania has no diplomatic interest in the Middle East. (for the full interview, click here.)

Taking angry exception to this view was Dr. Zuroff, who wrote an op-ed in response for INN, insisting that Lithuania has not only not changed - but that it is cynically using Jewish suffering during the Holocaust to present itself as the victim of the Soviet Communist occupation that lasted from the conclusion of World War II until 1990. The country's Holocaust research institutions consistently ignore Jewish suffering, and their main purpose seems to be promotion of the "Prague Declaration" - which equates the suffering of the Lithuanians under Communism with the victims of Nazism (ignoring, of course,  the eager assistance Lithuania provided the Nazis in killing Jews) - and does everything in its power to resist putting its own Holocaust-era war criminals on trial.

In response to charges raised by Zuroff's question regarding Lithuanian government funding of the certificate program for Teaching the Holocaust and its Commemoration at the Efrata College,  and tours to areas of Jewish life and learning in Lithuania and Bielorussia, Prof. Yisrael Rozenson resplied, "Nonsense" and clearly notes  the patently libelous nature of these charges.  "I wish to state that neither I, the Lithuanian history program, nor the Efrata Teacher's College has ever received any funding whatsoever from any organization, group, or fund connected even remotely with the Lithuanian government. The history program is partially funded by the Claims Conference, which funds many similar such programs for other organizations." 
Jewish life and the story of the great Yeshivas in the Baltic States are a rich source of subject matter for history classes in their own right, and constitute the main thrust of Rosenson's life work and research. Furthermore, he requests a clear statement from Zuroff rescinding his question and its inferences, unrelated to the argument on the difference of their opinions.
Prof. Rosenson emphasized that . "I respect Dr. Zuroff for all his work. He is a world-recognized trailblazer in bringing Nazi war criminals to justice. I can understand how he would disagree with my opinions.

"Nevertheless," he said, "I, too have had many experiences with the Lithuanian people, and it is difficult to say that nothing has changed. Certainly things are not the same as they were during the Holocaust, or even during the Communist era. New realities and conditions have emerged in Lithuania, and while we cannot - and must not - forget what they did to us, we cannot ignore these changes. If Israel can have a dialogue with Ukraine, and with Germany itself, it can have one with Lithuania.

Rosenson says, adding that "with that, I wish to reiterate that I have the utmost respect for Dr. Zuroff and his views, which he is certainly entitled to - as I am entitled to mine."