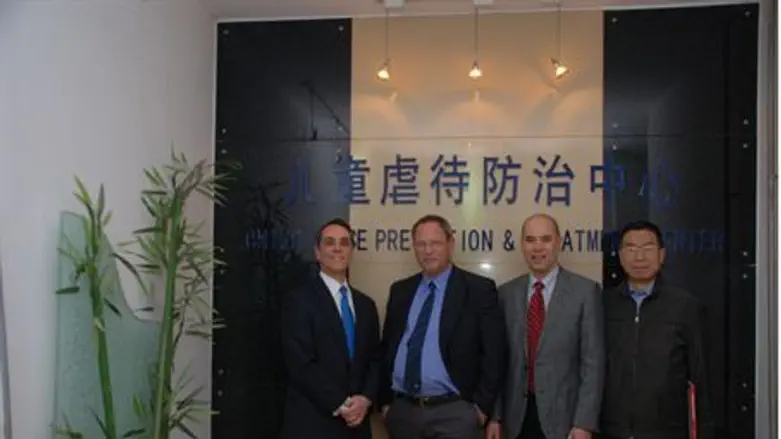 Haruv delegation in China
Jin Pang.
Israeli expertise in combating the phenomenon of child abuse is being exported to China for the first time.

This week a team from the Jerusalem-based Haruv Institute, which provides innovative training in identifying and fighting child abuse and neglect, is holding a five-day seminar for a group of 40 pediatricians from across China. The seminar is led by Dr. Yoram Ben Yehuda and Dr. Gabriel Otterman. Sanford R. Cardin, the president of the Charles and Lynn Schusterman Family Foundation, which supports the Haruv Institute, is also attending.

The seminar seeks to provide the pediatricians, who often serve as the front line in identifying child abuse, with new tools and clinical skills with a focus on early detection. 

The training, which is taking place in Xi'an, a city of ten million in central China, will also include methods for documenting and treating cases of child abuse. Shaanxi Hospital in Xi'an invited Haruv's physicians after hearing about their expertise.

The seminar includes lectures, workshops, an examination of case studies, in-depth discussion and clinical, hands-on training. Some of the Chinese physicians will travel to Jerusalem for further training at the Haruv Institute.

Haruv said that this is the first time an Israeli delegation has been invited to another country to train others on the subject of preventing and treating child abuse and is "among the first times, if not the first time, that a Chinese institute has asked for such outside expertise on the matter."

The seminar's long-term goal is to train a core group of pediatricians in China to become experts in detecting and treating child abuse. They will then be able to transmit their knowledge and new tools to colleagues throughout the country, which is home to one of the largest populations of children in the world.

"The Chinese have recently realized that the role pediatricians play is a very integral one in fighting child abuse, and that often they will be the first place a child will go after being hurt," said Professor Hillel Schmid, Director of the Haruv Institute. "This innovative and pioneering seminar aims to train these pediatricians with the necessary skills and knowledge to detect when a child is in danger and, furthermore, to have the resources and wherewithal to take the appropriate action."

According to Schmid, the Chinese invitation is evidence of the Haruv Institute's growing international influence as leaders in providing knowledge and training in the prevention and treatment of child abuse. "Our goal is to expand our reach and to deepen our collaboration with the professional community in China to share with them the knowledge and skills we obtained in Israel to fight this phenomenon," Schmid added.
The Haruv Institute, established by the Schusterman Foundation – Israel, sees as its mission to establish, apply and disseminate new standards of excellence in the field of child abuse and neglect for all professionals and allied care-givers.