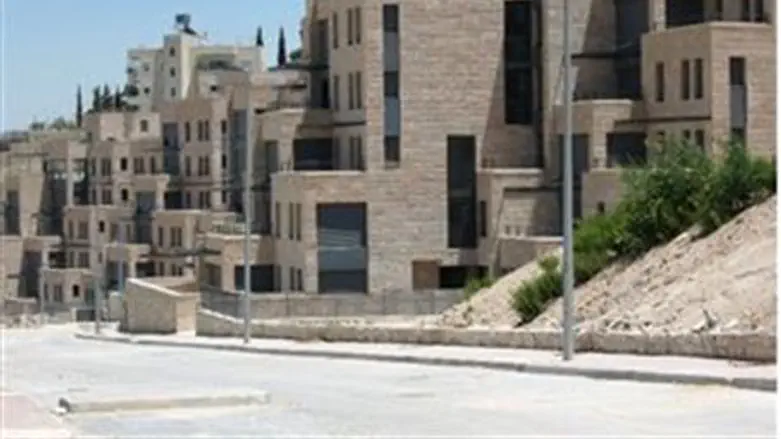 Nof Zion
Israel news photo: Haggai Huberman
Spirited attempts are being made to prevent the Jewish neighborhood of Nof Zion in Jerusalem from falling into Arab hands.
The Digal Company that built the project, which was slated to be a religious-Zionist neighborhood, has fallen upon hard times, failing to pay its debt of nearly 60 million shekels to bond holders. The latter were made an offer of approximately 50% by a religious-Zionist real estate group known as Be'emunah (With Faith), but this was topped by an offer of approximately 60% - in cash – made by a Palestinian Authority Arab with American citizenship.
The potential Arab buyer is represented by Attorney Dov Weissglass, a former friend and advisor to ex-Prime Minister Ariel Sharon during the Disengagement period.
Phases II and III in Danger, Thus Endangering Phase I
The first phase of the project was completed long ago, and much has been written about the 90 families' satisfaction with their new neighbors, neighborhood, and surroundings. However, they are more than apprehensive that if the project falls into Arab hands, the 180 planned units of Stages II and III of the project will not only not be built, but that their own homes will become an unsafe and unviable Jewish enclave surrounded by Arab homes.
Thus, they threaten to take Bank Leumi – the guarantor of the project – and Digal to court for backing down on their much-touted plans to ensure that the project is for the national-religious public. Digal's troubles can be solved by selling to Be'emunah, they say, and add that while selling to an Arab buyer would increase Digal's profits, it turns the project into the opposite of what Digal promised the residents. The residents are represented by Attorney Moti Mintzer.
Yisrael Ze'ira, founder of both the Rosh Yehudi outreach organization and Be'emunah, says that his group is seeking to raise 48 million shekels with which to purchase the 15 dunams (nearly 4 acres) on which Stages II and III are to be built. "We are short just a few million," he told Israel National News. "Those who wish to help can visit our website." The minimum investment is 320,000 shekels (roughly $89,000) - the price, including Value Added Tax, of land for one unit. Those who invest are promised a discount in purchasing the actual apartment.
Another approach, led by Jerusalem lands reclaimer Aryeh King, is to find buyers for a total of 25% of the bonds, thus preventing the necessary majority of 76% from voting to sell the bonds to Weissglass' Arab client. The bondholders are to convene for the vote in two weeks' time. Though some feel this attempt could easily be challenged in court, it could buy time for the Be'emunah group to raise the necessary funds to buy the project.
King's Jerusalem projects are featured here.
Both King and Ze'ira emphasize that the importance of their efforts cannot be overstated, both for the future of Nof Zion and for Jerusalem in its entirety.