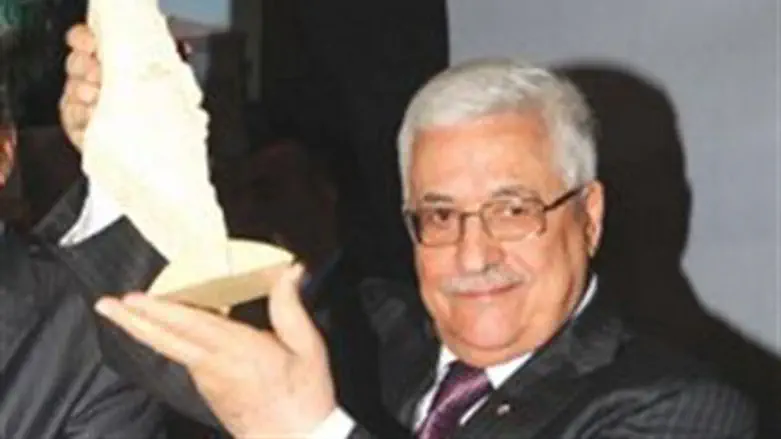 Abbas holding model of area he wants for Pal.
Israel news photo: palwatch.org
The United States and Israel both blasted Brazil after Friday's announcement of formal recognition of the Palestinian Authority as a new independent Arab country, one month before President Luiz Inacio Lula da Silva is scheduled to leave office.
Lula da Silva announced his decision in a letter sent December 1 to PA Chairman Mahmoud Abbas.  Brazil recognizes "Palestine," Lula da Silva wrote, and hopes that the recognition will help lead to two states, Israel and Palestine, "that will co-exist peacefully and in security."
The official announcement was posted on the website of Brazil's Foreign Ministry, according to the Associated Press, which noted the recognition came in response to a request made by Abbas last month.
Israel: 'Regrets' Move Which Violates Agreement
The Israeli government expressed its "regret and disappointment" with the decision in a statement released Sunday by the Foreign Ministry. Noting that Lula da Silva has only a month left to go before "passing the baton" to his successor, Israel pointed out that "recognition of a Palestinian state is a violation of the Interim Agreement signed between Israel and the PA in 1995," a reference to the amended Oslo Accords.
Spokesman Andy David told Israel National News on Sunday afternoon that although the Foreign Ministry had been aware the declaration was in the works, personnel had only a few days' notice, and there had been hopes it would not come to pass.
"It also contradicts the Roadmap (peace plan formulated by the administration of former U.S. President George W. Bush), adopted by the Quartet [of peacekeeping nations] and supported by the international community," the statement noted.
Israel pointed out that the two governments of Israel and the PA are currently "making efforts to resume the negotiations" between them. "Any attempt to circumvent this process and make unilateral decisions on important and controversial issues," the statement said, "only harms the good faith of the parties and those who are obligated under the agreed-upon framework for the peace talks."
US: Brazil 'Severely Misguided'
U.S. Representative Eliot Engel, a member of President Barack Obama's Democratic party, meanwhile scorned the decision over the weekend as "severely misguided," and said it "represents a last gasp by a Lula-led foreign policy which was already substantially off track."
A co-chair of the Congressional Brazil Caucus, Engel noted the soon-to-be ex-president had grown close to Iranian President Mahmoud Ahmadinejad. He was quoted by the AFP news service as saying Brazil "wants to establish itself as a voice in the world but is making the wrong choices as it tries to do so."
President-elect Dilma Roussef, a former cabinet chief and protege of Lula da Silva, "is sending a message to the Palestinians that they need not make peace to gain recognition as a sovereign state," Engel said. He added that he nevertheless remains a "strong supporter" of Brazil as a "dynamic, diverse democracy."
U.S. Representative Ileana Ros-Lehtinen, the incoming Republican chairperson of the powerful House Foreign Affairs Committee also slammed the announcement. She called it "regrettable" and said it would "only serve to undermine peace and security in the Middle East."
Ros-Lehtinen added that "responsible nations" would not consider taking a similar step until such time as the PA resumes direct negotiations with Israel and recognizes its "right to exist as a Jewish State."