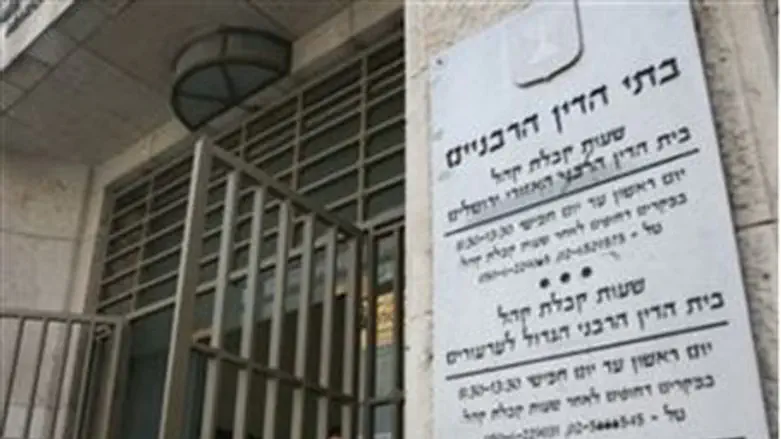 Rabbinic court building
Flash 90
In an unusual step, an official rabbinic court in Tel Aviv has ordered a United States citizen to remain in Israel for proceedings in a divorce case. The man, who has refused to give his wife a divorce, was detained in Israel following her request; she is also a U.S. citizen.
The court order was made possible by a law that allows Jewish women to sue for alimony and child support in Israel – and to enforce sanctions on husbands who refuse to pay – even if they are not Israeli citizens. The law does not allow for the detention of recalcitrant husbands merely because they refuse to give a divorce, but it is quietly understood that if he agrees to grant the divorce, other proceedings against him will usually be dropped.
The case at hand involves a hareidi-religious couple from New York City with one child. The husband and wife have been separated for several years, but the man refuses to grant a Jewish divorce or to pay child support, despite having been ordered to do so by a rabbinic court in New York. The woman has accused her husband of verbal and physical abuse during the course of their marriage, and says she was forced to flee New York due to his threats.
In the U.S., rabbinic court sanctions generally cannot be enforced by civil courts. In Israel, on the other hand, courts are allowed to forbid a man who refuses a divorce to leave the country, to revoke his driver's license, and even to send him to jail. The Rabbinate has also published the pictures of missing recalcitrant husbands in an attempt to track them down.
The law allowing Israeli rabbinic courts to help non-Israeli Jewish women who are being refused a divorce was the brainchild of the Merkaz HaYehudi HaBein-leumi (International Jewish Center). The center was founded by Rabbi Tzuriel Bubliel, an attorney himself, and Attorney Avivit Moskowitz, with the goal of assisting "agunot," Jewish women denied a divorce; the law aims to bring non-Israeli cases into Israeli courts where rabbinic judges have more tools with which to enforce their decisions.
Under Jewish law, a woman is not allowed to remarry until her husband gives her a divorce document (known as a Get). If she enters a new relationship without having received a divorce, the relationship is considered adulterous, and children born will be illegitimate. A man is also forbidden to remarry until his wife accepts a divorce, but if he does remarry, the marriage is not considered Biblically adulterous.
Hillel Fendel contributed to this report.