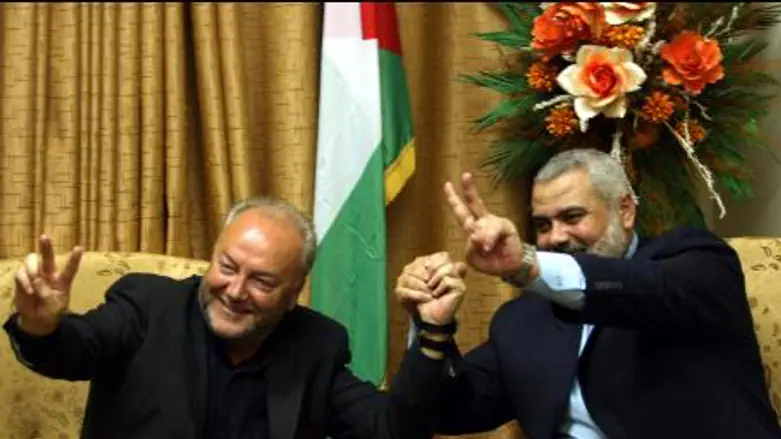 George Galloway
Israel news photo: MEMRI/PRESS TV
Former British MP and pro-Hamas enthusiast George Galloway has been allowed entry to Canada and began a speaking tour across the country on Tuesday.
The controversial Galloway was  declared a security risk and was barred from entering Canada in 2009 for a speaking tour that was organized by the Toronto Coalition to Stop the War.
Galloway was thrown out of the British caucus in 2003 after vocally opposing Britain's involvement in the war in Iraq. He regained his seat in the House of Commons in 2005 as a candidate for a left-wing party, only to lose it this year.
Galloway, who openly supports the Hamas terrorist group and who runs the 'Viva Palestina' group, tried to lead a convoy of some 150 trucks with aid to Gaza through Egypt earlier this year. Egypt blocked the effort, insisting instead that aid to Gaza should be sent through recognized international channels.
A second convoy organized by 'Viva Palestina' was given permission last month by Egypt to sail by Gaza en-route to El Arish. However, Cairo has retained a ban on Galloway since the first convoy attended to cross through Egypt.
As Galloway prepared to begin his cross-Canada speaking tour, Michael Taube, a former speech writer for Canadian Prime Minister Stephen Harper, wrote on Tuesday in The Toronto Star that he was surprised by Canadian Immigration Minister Jason Kenney and conservative pundit Ezra Levant, who supported the banning of Galloway from Canada. They argued that Galloway's case had nothing to do with freedom of speech, a claim which Taube described as "a serious tactical error."
"When you restrict a person's right to free speech with questionable intent, it will always be held against you," wrote Taube, who emphasized that he dislikes Galloway's opinions as much as anyone. "Galloway had the ammunition to fight back. The leftist gadfly received international coverage due to his bellowing and posturing about this 'idiotic ban.' He claimed his anti-war positions in Iraq and Afghanistan had frightened Ottawa, and challenged Kenney to a debate. In short order, he used this security ban to his advantage and transformed himself into a political martyr."
Taube expressed his belief that Galloway should have been allowed to conduct his speaking tour back in 2009, since, by banning him then the Canadian authorities turned "a speaking tour that would have received little media attention" into "a full-fledged media circus. When the ban was lifted last month, he arrived in Toronto as a conquering free speech hero to a packed audience."
Galloway was set to speak at Toronto's York University on Tuesday, the first stop on his new speaking tour. Hillel of Greater Toronto condemned the event which was sponsored by the York Federation of Students (YFS).
"The time and money that the YFS has invested in sponsoring a speech by this extremist political castoff who was rejected by his own constituency is an insult to York students," said Hillel education chair, Avram Heisler. "The YFS is speaking for its own radical views, not the students it purports to represent. This shameful expenditure is a misappropriation of funds provided by students to the YFS."
York University's students were planning to hold a rally outside the venue where Galloway was to speak.
Meanwhile,The National Post reported on Tuesday that those who oppose Galloway are planning to attend his speaking events in Canada disguised in keffiyahs and in what was described as "hand-woven Guatemalan man-purses." The opponents to Galloway are planning to confront him during the question-and-answer part of his talk.