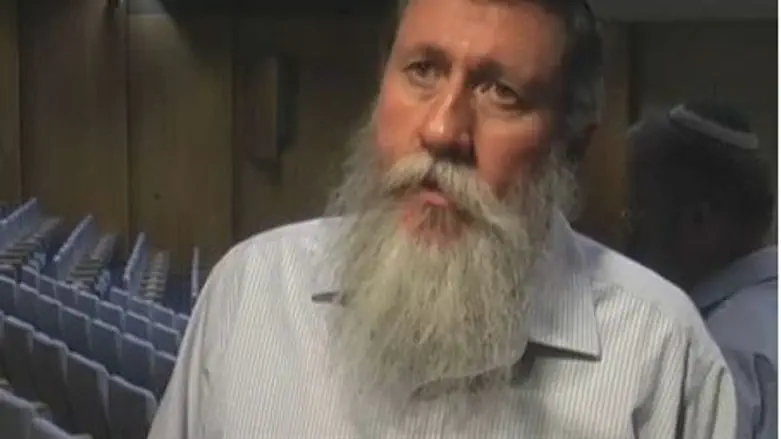 From the video
Screenshot
Foreign anarchists and Palestinian Authority Arabs were caught on film Sunday setting fire to a wooded area outside the Jewish town of Bat Ayin, in the Etzion Bloc (Gush Etzion) between Jerusalem and Hevron. Bat Ayin is three minutes from Alon Shvut and the Har Etzion Hesder Yeshiva. . The fire damaged many plants, including olive trees.


Residents who witnessed the incident said they believe the group was planning to blame the arson attack on the Jews of Bat Ayin.

In the video approximately one dozen people can be seen wandering around the field, stopping occasionally to bend over and set new fires. The group does not appear anxious, and does nothing to extinguish the flames.
In response to  the  video showing Arabs and anarchists committing willful arson in wooded areas and olive groves near the community, where a young child was murdered by an Arab infiltrator last year, MK Yaakov Katz, ("Ketsale"), head of the National Union party, accused the police and ISA (Shabak) of unjustified blackening the name of Judea and Samaria's Jewish residents on this and other issues.
The MK claimed that law enforcement agencies have known for two years that those who really uprooted trees, burned mosques, wrote grafitti and burned volumes of the Koran were not Jews, but rather  anarchists, radical leftists and Arabs who succeeded in their plan to  have the blame fall on Israel's most idealistic citizens, those Jews who live in its Biblical heartland of Judea and Samaria. They enjoyed full cooperation of Israel's law enforcement agencies who did not look for the real perpetrators, having decided without question that Jews had done the deeds.
MK Katz demanded that the Prime Minister form an investigative committee that will show the truth and make the police and other law enforcement agencies explain their joint policy that besmirched the reputations of the 350,000 residents of Yesha.
"No Jew has ever been caught uprooting olive trees and certainly not burning a mosque", he emphasized, adding "if a committee is not formed, we will have to do the work ourselves.  This finger pointing at Jews without a shred of evidence is unpleasantly similar to Avishai Raviv, the Shabak provocateur, who did the same before Rabin's murder."


Jews living in Judea and Samaria have said for years that reports of Jews burning or cutting down Arab-owned olive trees are manufactured in order to create an olive harvest libel that earns sympathy for PA Arabs. In fact, they say, Jews are often the victims of Arab attacks during the harvest, while Arabs are given IDF protection.

This year, activists in Samaria have created a website encouraging Jews to document Arab assaults during the harvest.