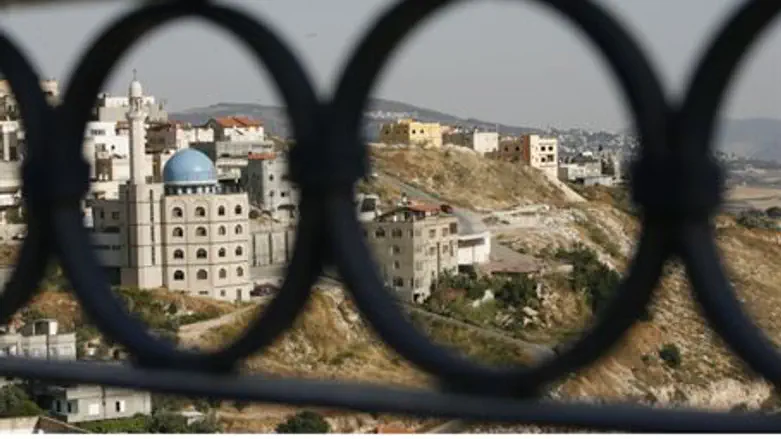 Nazareth mosque (illustrative)
Flash 90
Imam Nazzem Abu-Salim of Nazareth has been charged with incitement in the case of a Nazareth terror cell linked to a 2009 murder and to other violent attacks. Salim, of the Shihab A-Din Mosque, is accused of incitement to murder.
Salim was arrested one month ago in an operation involving police and Israel Security Agency forces. 
Police decided to arrest Salim following a confession from a suspect in the murder of Jewish can driver. The suspect admitted to the killing, and said he was motivated by Salim's teachings.
On November 30, 2009, he and two other members of the group decided to murder a Jewish cab driver. The three - Ahmed Ahmed, Aleb Ghanem, and Heider Ziadna - began by ordering a cab from the nearby Jewish city of Nazareth Illit. One of the terrorists entered the cab, and when it reached its destination, shot and killed the driver, 54-year-old father
In addition to murdering Weinstein, the Nazareth terrorist cell inspired by Salim targeted Jews and Christians on several other occasions. Members of the cell are accused of brutal beatings, stabbings, arson and firebomb attacks.
Abu-Salim has been known for some time for his extreme anti-Israel and anti-American teachings. He is accused of distributing fliers and setting up a website to publicize his views, which include support for global terrorism and Al-Qaeda. Prosecutors say Salim published messages put out by Al-Qaeda leader Osama Bin-Laden.
He has accused Israel of deliberately murdering Arab civilians. About the United States he said, "True Islam wants to live faithfully, with mercy for the weak; standing opposite is the world's wicked empire, America."