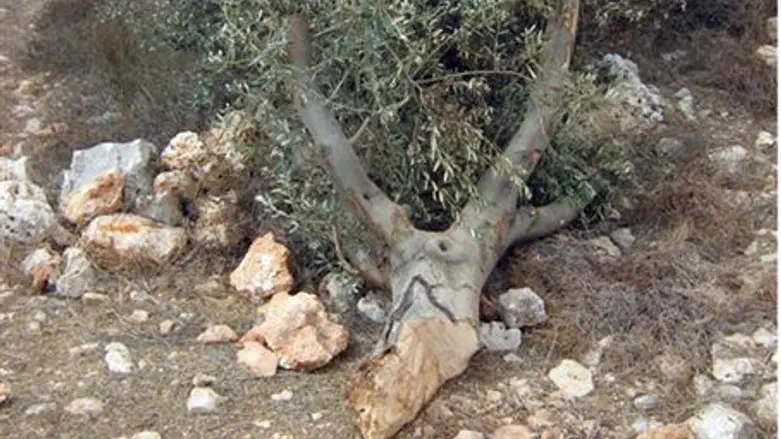 Chopped off olive tree at Netzer
Israel news photo: Women in Green / Netzer
A gang of 12 Arabs was discovered Friday chopping down olive trees that were planted last week in the Jewish Judean community of Netzer.
At least three of the big trees fell to the axes and saws wielded by the attackers before Jewish activists discovered what was happening. The defenders managed to stop the Arabs from further action, and stayed with the trees until an IDF unit arrived to inspect the damage. (Israel news photo: Women in Green / Netzer)
"They saw the damage and promised to catch the Arab perpetrators," said the Women in Green and Netzer (Judean Action Committee) organizations in a joint statement. "The story of this plot of land is obviously not over."
The big olive trees are part of a grove that has become a new battlefield on the Path of the Patriarchs in Gush Etzion. Tthe plot is part of an area considered to be state land by Israel's Civil Administration.
Local Palestinian Authority Arabs from the surrounding area, who consider state land  to be theirs whether officially designated as such or not, uprooted grapevines there more than a week ago. A few days later, in response, activists planted a group of large olive trees donated by a farmer from the north. (Israel news photo: Women in Green / Netzer)
The trees were not in the ground for even 24 hours before Arabs came and uprooted them. By Sunday evening, however, Jewish activists returned and began a complicated operation to replant the big trees – three of which are now dead. (Israel news photo: Women in Green / Netzer)
While Jews and Arabs battle for control over the land in Judea, a similar fight continues less than an hour north in Samaria, along the same road, Highway 60, where several brutal terrorist attacks by PA Arabs have taken place in recent months. 
Slanted Coverage Continues by International Media
Meanwhile, the international media led by various foreign and Arab leftists continue to report on the Palestinian Authority Arabs who "go out to harvest their olives" and the "Israeli settlers [who] go down from the hilltops to stop them."
Most recently, TIME Magazine claimed in an article published October 29, "The current harvest is the most violent in years, with attacks by settlers on Palestinian property largely to blame." The damning statement was not substantiated with photos, nor with specific quotes from any IDF official, other than a paraphrased claim that "more than 50% of Israeli forces there (in Judea and Samaria) are patrolling the groves." (Below: IDF personnel inspect damage inflicted by Arabs at Netzer olive grove / Israel news photo: Women in Green / Netzer)
The writer continued with the explanation that the deployment came following a decision six years ago by Israel's Supreme Court, instructing the IDF to safeguard Palestinian Authority Arab farmers as they harvest their olives.
However, the annual reports of conflict over the olive harvest have become an annual rite of Israel-bashing, according to Gershon Mesika, chairman of the Samaria Regional Council. "It's become about ways to defame Israel," he told Israel National News in a recent interview. "No Jews living in Judea and Samaira are interested in stealing or damaging the olives of any of our Arab neighbors. It is the radical leftists and Arabs themselves who are doing the damage."
Frame-up for Jewish 'Price Tag' Libel
Last Friday, members of the Tazpit Unit -- a group of Jewish activists -- spotted Arabs and leftist anarchists aggressively chopping down olive trees in a Samaria grove near the Jewish community of Neve Tzuf. The attackers waved the buzz saw at the Jews as they approached with a video camera. Tazpit photographer Ehud Amiton, who documented the attack, said it was clear this was no pruning, but rather an attempt to frame Jews in a "price tag" scenario.
"Some of the branches broke and other trees were cut off entirely," Amiton noted. "When I approached closer with my camera, the Palestinian waved his saw at me threateningly. I became worried, and so I backed off."
Although there is no proof of this occurring at all, an attacks allegedly perpetrated by Jews against Arabs in Judea and Samaria have been denounced by Jewish leaders, including prominent nationalist spokesman attorney Elyakim Ha'etzni, who lives in the Judean Jewish town of Kiryat Arba. However, Haetzni himself did not cite evidence that they were indeed perpetrated by Jews.