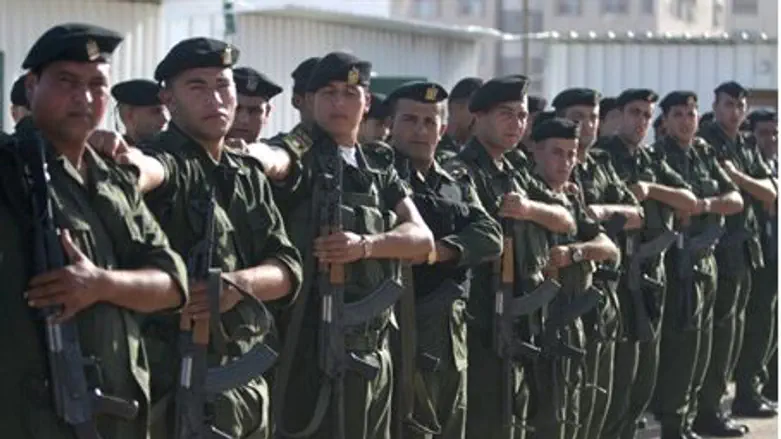 PA security force
Israel news photo: Flash 90
The IDF's Nachshon Battalion's recent training exercises have included simulated battles against Palestinian Authority security forces. The mock battles were intended to prepare the soldiers for the possibility that the PA security forces in Judea and Samaria, that were trained in the past five years by US Lieutenant General Keith Dayton, would one day turn on Israel. Dayton was replaced a few days ago by Lt. Gen. Michael Moeller.
The simulation was part of a seminar for Central Command officers held two weeks ago at the Lachish training base, and named "From Routine Security Operations to Escalation."
IDF journal Bamachaneh reported on the exercise and explained that it was held against the backdrop of recent "accelerated contacts, far from sight and from the media, for a reconciliation agreement between the Palestinian Authority (led by Fatah chief Mahmoud Abbas) and Hamas." Information about these contacts is spotty, but the only thing that appears to be preventing reconciliation is Hamas's demand that PA security forces cease coordinating security matters with the IDF.
An agreement between Abbas's PA and Hamas would "completely change reality in Judea and Samaria," the military publication estimated.
Major General Avi Mizrachi, Head of Central Command, said at the seminar that "the most extreme situation that we predict in the Command is one in which the PA will decide to turn its weapons on us." This scenario is possible, he said, but "our assessment is that it will not happen." however,Brig.-Gen. Nitzan Alon, the commander of the Judea and Samaria Division, disagreed and said that Central Command must prepare for the situation in which the PA becomes an enemy and will cease operating against terror units as it does today.
Maj.-Gen. Mizrachi opined that without the infrastructure established by the IDF in recent years, no Arab security mechanism could prevent terror in Judea and Samaria. "The mechanisms fear a Hamas takeover of Judea and Samaria more than they fear us," he said. At present, he said, suppression of Hamas is in Judea and Samaria is "not bad," and Israel and the PA share a common interest in preventing terror from occurring in – or emanating from – Judea and Samaria.
Central Command has also noticed a tightening of ties between Judea and Samaria terror cells and those that operate in Syria, Jordan, Lebanon and Gaza. Terrorists attempted abductions of Jews five times last year, said an intelligence officer named Ronen, but there has been an increase in such attempts this year.