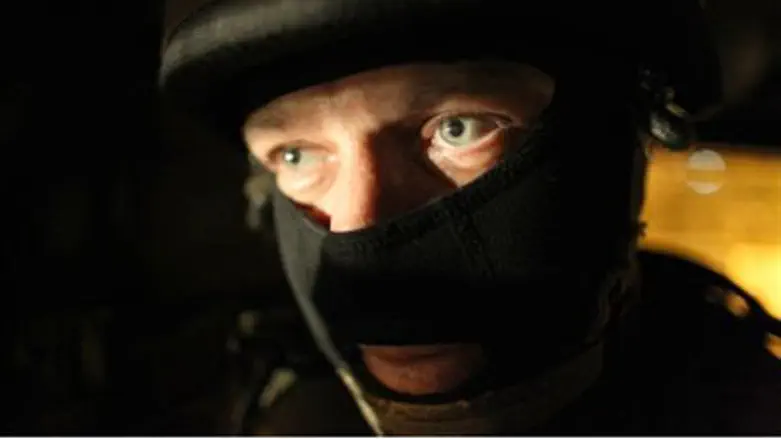 Yamas officer in action.
Israel news photo: Flash 90
The Yamas undercover counter-terror unit of the Border Police was founded in the 1990s in response to the growing Arab terror threat that resulted from the Oslo 'Peace' debacle. It assists the Shin Bet in its daily counter-terror activity. Flash 90's Nati Shochat spent part of the last six months accompanying the unit in its training and operations and these are some of his photographs.
Yamas officers arrest an Arab suspected of weapons dealing, in the neighborhood of El Zayim in northern Jerusalem.
Yamas officers arrest an Arab man suspected of being involved in terror acts, outside his house in Hevron.
An Arab man is checked for weapons during an arrest operation by masked Yamas officers in a supermarket in Shuafat, near Jerusalem. The man in the picture was found to be 'clean' and released.
A Yamas officer speaks with a civilian during a night mission in Ras el Amud in eastern Jerusalem.
A crossed-out Star of David is sprayed on the ground in the Arab neighborhood of Shiloach in Jerusalem, where Yamas officers are about to enter the house of Arabs suspected in leading clashes with security forces.
An arrested Arab man argues with Yamas soldiers in the neighborhood of Shiloach in eastern Jerusalem. The man was arrested on suspicion of leading riots.
Yamas man in Shiloach.
Masked Yamas men arrest an Arab in El Zayim, after he was caught in the act of dealing in weapons.
Training for the night's mission.
Dressing as an Arab in preparation for a mission.
Training for an undercover arrest.
Yamas sniper training.
Two Yamas men training a dog.
On a firing range.
Mug shot with ID card.