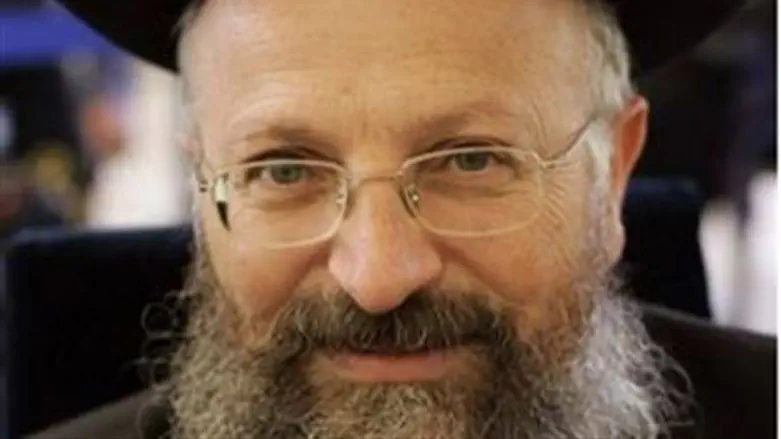 Rabbi Shmuel Eliyahu
Israel news photo: Flash 90
Rabbis from the Our Land of Israel group have sounded their support for 18 rabbis from northern Israel who issued a call to Jews not to sell land to Arabs. Our Land of Israel has also requested that the Council of the Chief Rabbinate be convened to discuss the problem of "creeping conquest" by Arabs in mixed cities and formerly Jewish neighborhoods. This conquest, the group said, endangers security and increases intermarriage. 
Jews who transgress this edict are desecrating G-d's name, they said. 
The rabbis' letter also gives other reasons for refraining from selling to non-Jews. Among these is the concern that a Gentile neighbor might, in some cases, abuse the surrounding Jewish population. If a non-Jewish buyer bothers his neighbors, Jewish Law (as explained in the book 'Shulchan Aruch') says that the seller must do everything he can to remove the problem, even at a great cost. 
Earlier in the week, 18 of Israel's leading northern rabbinic authorities issued a letter strictly prohibiting the sale or renting of land in Israel to a non-Jew. "In response to the many questions," they announced, "we hereby respond that according to the Torah it is strictly forbidden to sell or rent land to a non-Jew in Israel." 
The letter was signed by the Rabbi of Tzfat, Rabbi Shmuel Eliyahu, and other rabbis from the northern part of Israel. Chabad.info noted that these include Rabbi Yosef Yitzchak Wilshansky, Head of the Chabad Yeshiva of Tzfat, and Rabbi Mordechai Bistritzky, the rabbi of Tzfat's Chabad community. 
Arab MK Hana Sweid (Hadash) responded to news of the rabbis' letter by calling for a reopening of an investigation against Rabbi Eliyahu on charges of racist incitement. Rabbi Eliyahu was the subject of a police investigation in the early 2000s after he said the Tzfat College should not allow Arab students on campus. He made the statement immediately after a horrifically murderous bus bombing in which a student from the college was complicit. The charges against him were canceled in 2006 after the rabbi agreed to issue clarifications to his statement.