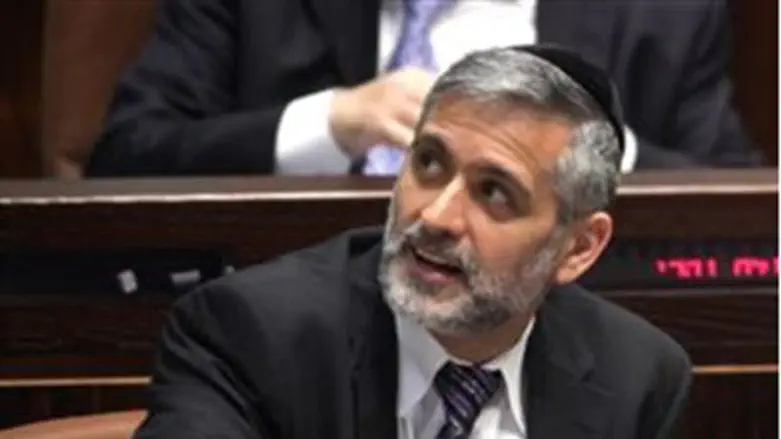 Minister Eli Yishai
Israel news photo: Flash 90
The amended version of the loyalty oath requirement for new citizens has a slim chance of becoming law, because of opposition by hareidi parties, Makor Rishon newspaper reported Tuesday.
As reported Monday, Prime Minister Binyamin Netanyahu has instructed Justice Minister Ya'akov Ne'eman to prepare a new version of the bill requiring immigrants to pledge their loyalty to a "Jewish and democratic" state of Israel. The amended version would require Jewish immigrants to take the oath as well, and not just non-Jewish ones.
A senior Likud source told the newspaper that by adopting the amended version of the bill, Netanyahu was in fact attempting to "elegantly" bury the bill entirely, in the knowledge that his coalition would not pass it in its new form.
Ministers Yuli Edelstein (Likud) and Eli Yishai (Shas) opposed the version of the bill that includes Jews when it was discussed in the cabinet last week. Edelstein told the newspaper that adopting the inclusive version would endanger the Law of Return, by which Jews are granted automatic citizenship of Israel upon entering the country. He reasoned that it would create an equivalence between the status of Jews who gain citizenship through the Law of Return and that of non-Jewish foreign laborers, academicians and the like.
According to Makor Rishon, Netanyahu will find it hard to overcome the objections of the hareidi religious parties in his coalition, which are not interested in requiring hareidi Olim to pledge allegiance to a "Jewish and democratic" Israel. Generally speaking, many, if not most, hareidi religious streams do not see themselves as Zionist and have a problem with the establishment of a Jewish state that does not follow Torah Law. The concept of democracy is also not necessarily popular in some religious streams, where it is seen as a western concept foreign to Judaism.