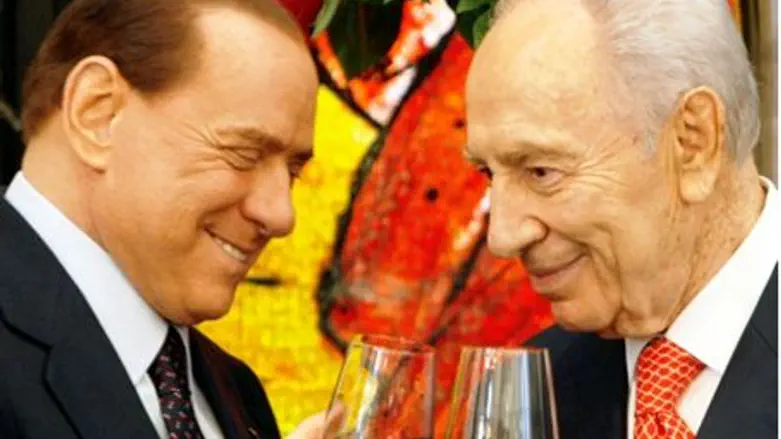 Italian PM Berlusconi, Israeli Pres. Shimon P
Israel news photo: Flash 90 / archive
Italian Prime Minister Silvio Berlusconi told a pro-Israel rally in Rome late last week that Israel has a right to exist and a right to its security – and that ensuring both are an ethical and moral imperative for the Italian people.
"Israel's security within its borders, as well as its right to exist as a Jewish state, is the ethical choice for Italians and a moral obligation against anti-Semitism and Holocaust denial," Berlusconi told the crowd.
"My visit to the Auschwitz extermination camp, as well as the horror of the Holocaust barbary, gave rise to my indelible feeling of solidarity," the Italian prime minister explained. "Since then, I feel Israeli."
The rally, "For the Truth of Israel," organized by Amici di Israele" (Friends of Israel), and held at the Temple of Hadrian, was headed by a parliamentarian from Berlusconi's political party.
Former Spanish Prime Minister Jose Maria Aznar, founder of the Friends of Israel organization, also spoke at the start of the rally. "Israel is not a Middle East country, but a Western country of the Middle East," he said. "Every problem for Israel is our problem."
Aznar's views were strongly supported by Italian House of Representatives Speaker Gianfranco Fini, who emphasized Israel's role as a democratic nation with "Western values in the Middle East."
Italian Foreign Minister Franco Frattini called on Israel to extend the freeze on Jewish construction in Judea and Samaria. At the same time, he said, the Arab league should not block the direct talks between Israel and the PA that had resumed in September after a hiatus of nearly two years – and which PA Chairman Mahmoud Abbas has threatened to abandon since the expiration of the construction freeze.