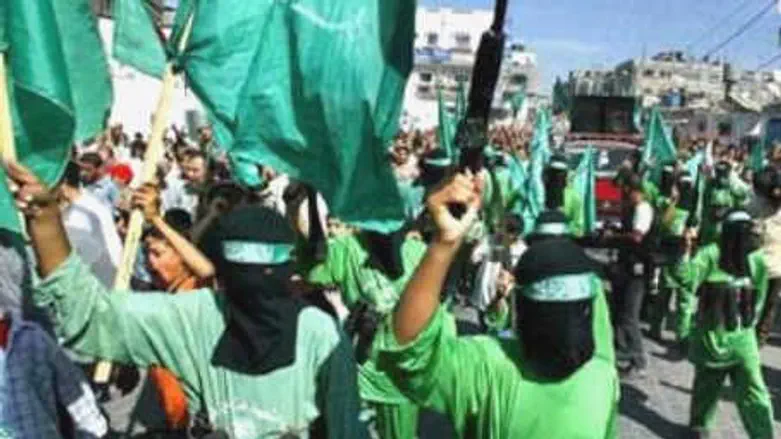 hamas
Israel news photo: israelpalestine-speedy.blo
A campaign by Hamas attempting to catch PA Arabs spying for Israel has spread panic among Gaza residents, AP reported last week.
According to the report, since early September Hamas has detained many residents of the Gaza Strip, including two prominent physicians, a respected engineer, and even members of the terrorist group itself. Concern has been expressed over the secrecy surrounding the arrests, as Hamas refuses to say exactly who has been arrested.
On Thursday, Hamas officials said they arrested several suspected spies for Israel. Though officials did not reveal the exact number of people who were arrested, they did say that the detainees include women.
Hamas accused the spies of aiding Israel in during Operation Cast Lead in late 2008, the israleli offensive in response to the thousands of rockets rained on southern Israel from Gaza by Hamas terrorists. The announcement on Thursday came as a Hamas court sentenced a Gaza man to death by firing squad after he was convicted of spying for Israel. At least two other alleged spies were executed earlier this year.
According to local human rights workers, more than 20 low–level Hamas operatives, who have been denied access to lawyers or family visits, have been arrested in the latest crackdown. While Osama Hamdan, a senior Hamas figure in Lebanon, said that the group had detained a number of collaborators and that some of them had confessed, Hamas officials in Gaza remain silent on the arrests, for fear that exposing more information might allow Israel to figure out who has been arrested.
As Mukheimar Abu Sada, a Gaza–based political scientist told AP: "Everybody in Gaza is under suspicion." He added that Hamas feels that "the government has been completely infiltrated, that Israel knows more about Hamas than what they know of themselves."
According to the report, although Israel has for a long time been running a network of informers in PA areas, the so-called "game-changer" for Hamas was the Israeli assassination of Interior Minister Said Siyam, who was killed in an airstrike during Operation Cast Lead. The assassination of Siyam, who was one of Hamas' most senior figures and was meant to be deep in hiding, raised questions on who around him may have revealed his location.
Hamas, who took control of Gaza from rival Fatah in 2007, has continuously cracked down on its political Fatah rivals, while at the same time imposing its stringent interpretation of the Islamic Sh'aria law in Gaza. Among other rulings, Hamas has declared that women and teenagers would not be permitted to smoke hookahs in public, that women's clothing stores are not allowed to have dressing rooms, and that any mannequins shaped like women must be dressed in modest clothing.
Alleged spies for Israel have also been arrested and charged in Lebanon. Last month, former army general Fayez Karam of the Free Patriotic Movement was charged with spying for Israel. A wide probe of alleged Israeli espionage activity in Lebanon has taken place. Lebanon has so far detained as many as 70 people, and more than 20 have been charged. During the months of July and August, three men were sentenced to death. A number of those in custody were military and telecom employees.