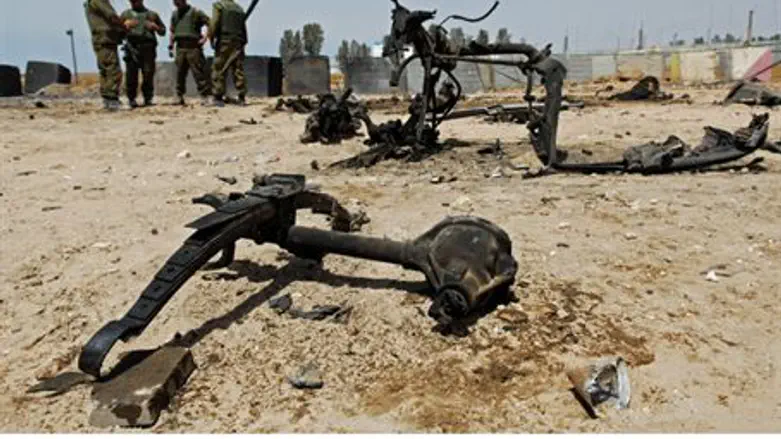 Aftermath of mortar attack (archive)
Israel news photo: Flash 90
IDF experts who examined some of the mortar shells fired at Israeli communities on Wednesday found that the explosives used contained phosphorous. The finding shows that Hamas has gained more advanced weapons technology, they said.
Phosphorous would make any wounds resulting from a terrorist rocket attack more severe, as the substance burns on impact and can cause serious injury or death. It is forbidden for use as a weapon in civilian areas by international law.
Gaza terrorists fired one rocket and nine mortar shells at Israeli civilian communities in the western Negev on Wednesday. Senior Hamas terrorist Ahmed Jabri released a statement calling to continue the attacks "until victory."
Hamas previously said it was refraining from attacking Israel, and blamed rocket and mortar shell attacks on other terrorist groups operating in Gaza.
In response to Wednesday's attacks, IDF planes bombed tunnels in southern Gaza. According to Channel 2 news, at least one of the tunnels was to have been used to bring terrorists from Gaza to southern Israel, to carry out either an attack or a kidnapping.
Jabri made reference to Hamas's tunnels network in his statement. "By our faith, our weapons, our rockets, our tunnels and our martyrs – given to us by Allah – we will achieve victory in the land of Palestine," he told followers.