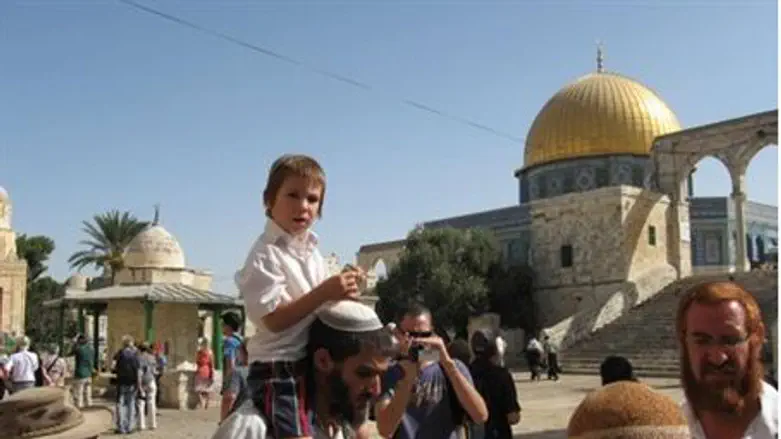 Imas family continues parents' tradition at T
Israel news photo: Yakir Bezalel
The family of Yitzchak and Talia Imas made a special pilgrimage up to the Temple Mount on Tuesday in lieu of the murdered couple, their parents, who traditionally made the trip on the eve of each holiday. Their father went up to the Mount every week.
Temple Mount police commander Avi Biton accompanied the couple's family and friends on their heart-wrenching journey. Also in attendance were Temple Mount activists Rabbi Yisrael Ariel and Yehuda Glick.
As always, all participants in the event first prepared themselves by immersing themselves in a mikvah, a ritual pool. The participants then followed up with prayers and Torah study.
Seven days ago, Yitzchak and Talia were brutally shot to death in a terrorist ambush on Highway 60 at the Bani Nayim junction in Judea, located between Pene Hever and Kiryat Arba/Hevron. Talia was nine months pregnant. In addition to the Imas couple, who left six children behind, Kochava Even-Chaim (who left behind a 10-year-old daughter) and Avishai Schindler, newly married, were also murdered. All were residents of nearby Beit Hagai. The 
Six members of the Hamas terrorist cell that murdered the four Beit Hagai residents were arrested by Palestinian Authority security forces, it was announced late Tuesday. The same terrorists were allegedly responsible for a second shooting attack that took place some 27 hours after the murder, also on Highway 60, near the Rimonim junction. The spot is located about 15 minutes north of Jerusalem, in the Binyamin region of Samaria. Rabbi Moshe Moreno was shot, but survived. His wife Shira, who was also in the car, was injured when the car overturned and landed in a ditch.
The Imas family vowed to continue the tradition of going up to the Temple Mount, despite the tragedy.
Israel news photos: courtesy of Yakir Bezalel