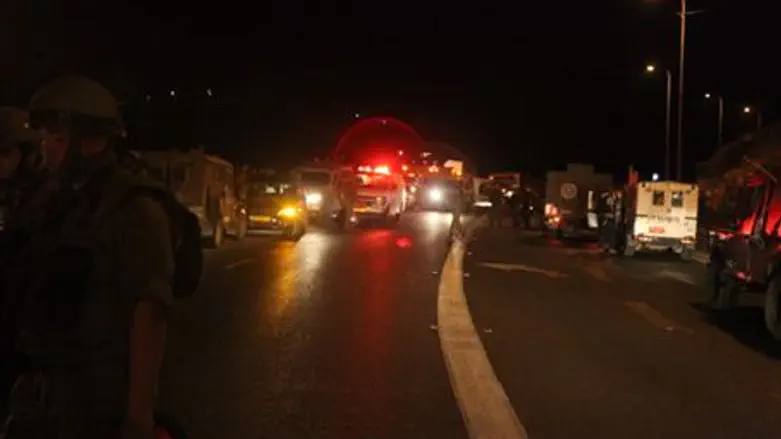 The scene of the attack.
A local resident.
Palestinian Authority security forces announced on Tuesday that they have arrested six terrorists who were involved in two shooting attacks last week. Hamas threatened  that it will wreak vengeance on the PA the same way it does to the 'enemy occupiers'.
In the first attack that took place last Tuesday evening at the Bani Naim junction just south of Hevron, four Israelis were killed: Yitzchak and Talya Imas (parents of six children), Kochava Even-Chaim (mother of one child), and Avishai Shindler. The four were all citizens of Beit Haggai, located between Hevron and Be'er Sheva.
The second shooting attack took place last Wednesday evening on Route 60 between the Rimonim Junction and the Jewish community of Kochav HaShachar in the Binyamin region of Samaria. Terrorists shot the vehicle in which Rabbi Moshe and Shira Moreno, residents of the Jordan Rift Valley, were driving. The vehicle overturned, tumbled down an incline and landed in a ditch. The couple was injured and taken to hospital.
According to the reports by PA officials, the six terrorists who have been arrested in connection with the attacks are all members of Hamas' Izz ad-Din al-Qassam Brigades.
Hamas claimed at the end of last week that the PA had arrested 550 of its members and summoned 1,500 others to an investigation as part of a crackdown following the two attacks. The PA denied Hamas' claims, calling them "no more than lies" and claiming that PA forces only arrested two residents of Hebron for their alleged involvement in the first attack.
Last weekend, Minister of Internal Security Yitzhak Aharonovich said that Israeli police was closer than ever to catching the terrorists who committed the attack near Hevron. "We are close to catching the terrorists and I hope soon to have news about this," he said.
Meanwhile, Defense Minister Ehud Barak ordered on Tuesday a closure imposed on Palestinian Authority areas and Arab villages in Judea and Samaria for security reasons over the Rosh Hashana holiday. Arabs will not be able to enter Israel until midnight on Saturday night, except in humanitarian and medical cases which are always allowed..
Police have increased their presence at all checkpoints. Patrols in areas where many people are expected to gather, such as synagogues, will be increased during Rosh Hashanah. Many synagogues also have worshippers who have done IDF service taking turns as armed guards or paid guards.