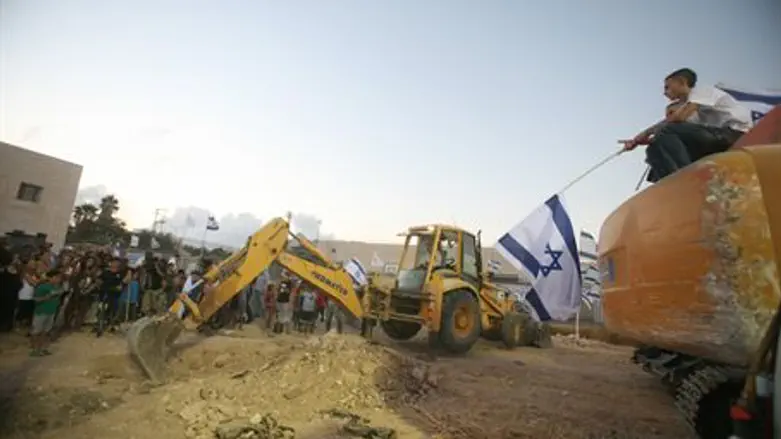 Building in Adam
Israel news photo: Yesha Council
The "genuine Zionist response" to Arab terrorism was activated again yesterday, with the beginning of construction of three new buildings in Judea and Samaria. The Yesha Council of Jewish Communities in Judea and Samaria declared, the morning after the quadruple murders of the Beit Haggai residents, that it officially views the construction freeze as over and expired.
Construction was begun at three different locations yesterday evening (Wednesday), and another one is to begin today. Concrete was poured for a new neighborhood's first building in Kiryat Arba, a sports hall was begun in Adam, just north of Jerusalem, and a kindergarten in Kedumim in central Samaria. Some 200-300 people took part in each.
Yesha Council: "They shoot and we build; everyone does what he believes in."

Building of a private home is to begin today in Beit Haggai, where the four victims of Tuesday's terrorist attack – Yitzchak and Tali Imas, Kochi Even-Chaim, and Avishai Shindler – lived.
There has been no word from the Defense Ministry or Civil Administration as to whether they will take action against the apparent violations of the government-mandated construction freeze.
Kiryat Arba's Chief Rabbi Dov Lior placed the first shovelfuls of cement in the Kiryat Arba building. "It is a pleasure to be here," he told the assembled, "amidst a healthy, vibrant public, healthy in spirit and mind. Despite the difficulties and suffering that we are undergoing, you are filled with faith, and you continue to build and take root… Peace and security will not be achieved by giving in to these murderers and thieves. Rav Kook wrote around World War One that there cannot be peace in the world until the stolen land of Israel is returned to the Jewish people…"
The Yesha Council explained in a statement why it is resuming construction now: 

"The terrorists identify our willingness to give in and make concessions, and this gives them a supportive tail-wind for their acts of murder. Every time there is a diplomatic summit of this sort, they wake up… The terrorists who murdered the Beit Haggai four escaped to the village of Bani Naim via a route that had been closed to traffic for 15 years because of attacks on Jews in the area – but which was reopened six months ago as a gesture to Abbas… The residents warned that it would endanger the lives of Jewish travelers and that it would end up costing Jewish lives – but the warnings fell on deaf ears."
"Immediately upon learning of the murderous attack, we announced that it was not designed to thwart the peace talks, as was widely stated, but was rather a direct result of the talks. We called on the Prime Minister to return to Israel, and not take part in sham ceremonies with those who sent the murderers while their victims were being buried… He did not do so, and we then announced that the construction freeze is officially over and that construction would resume within hours…"
"Over the course of 120 years of Zionism, the yishuv [Jewish populace in the Land of Israel] always knew how to recover from such attacks; the Zionist answer is to build. They shoot and we build; everyone does what he believes in.
Video filmed by:
Hezki Ezra (Arutz Sheva) and Rivkah Rybak (www.yeshabulletin.com)
"