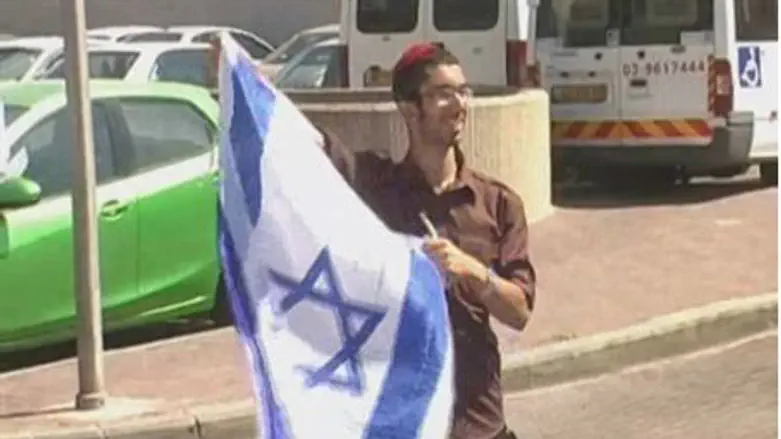 Elad Daniel Pereg
Hezki Ezra
Elad Daniel Pereg, the" Lone Zionist" who waved an Israel flag at a raucous anti-Israel protest outside the Israeli Consulate in Los Angeles in June, told Arutz 7, "They were out of their minds. They were filled with hate [and] filled with anger."
In a visit to his native Israel during the summer break from high school in the United States, Peleg explained why he risked being assaulted as he wore an IDF tee shirt and a kippa, and waved a large Israeli flag in front of the faces of angry demonstrators. 
"A friend of mine called me up and told me there was a protest going on. I always have been a Zionist. I went -- there was no one else there" supporting Israel," Peleg said.
His appearance set off screams and catcalls among the anti-Israel protesters as police stood guard and kept them about an arm's reach away from Peleg. "I went there with my flag and stood strong," he continued. They started screaming and even tried to take the flag away from me."
Peleg explained why he was not afraid, "I was calm the whole time. People don't understand [that] when you do something that is wrong, you are always nervous. When you do something that is right [and] when you stand up for what is right, there is no fear. You just go forward. That is how I felt."
He said he was born in Israel and hopes to return after high school, adding that it "is like heaven here. I love it here. My heart is here.
The anti-Israel rally in early June was over the May 31 flotilla clash, when Turkish terror activists, including one man who is known to have participated in a previous terrorist attack, assaulted Israeli Navy commandos who prevented their ship from heading to the embargoed Hamas-controlled Gaza coast.