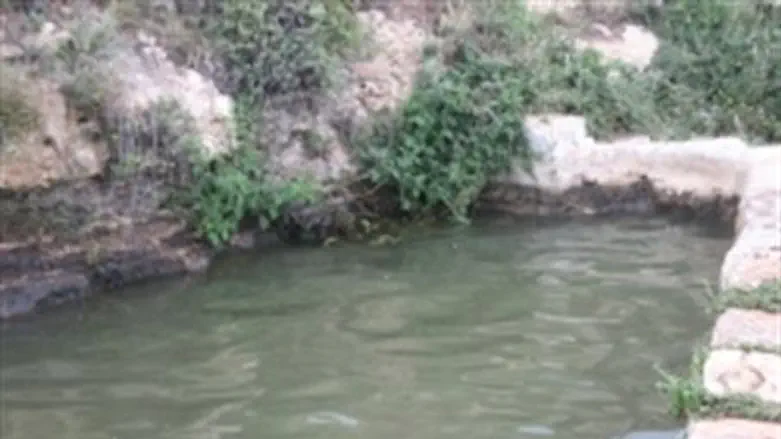 A Shomron pool
Israel news photo: lcl.org.il
Highly-motivated youth are sprucing up polluted water holes in the Shomron by unclogging water passages, introducing goldfish and placing benches, augmenting the growing list of Shomron tourist sites. They ask that if anyone discovers who they are, to please keep the secret...
The Shomron Residents Committee has launched a new Internet site with suggested relatively unknown attractions. An increasing emphasis has been placed on do-it-yourself sites such as hiking routes, water springs and brooks, mountain views, and wadis. Culture and archaeology sites are also on the list.
A sub-website presents, in a freshly informal manner, the approach some people have taken to the old-new water spots. Declaring their penchant for "studying Torah on a mountain and being attuned to nature," they write:
"Welcome to a world beyond the mountains of darkness, to a place where virgin nature rules and boars lord over the area. In this wild region, there are ancient secrets, youth of the caves and youth of the springs; no spoiled children here! … You won't find the politically correct here; we do our own thing and we're contributing to nature! Long live the crazies! …Have you hiked in the area and met up with a spring thirsty for water, with thorns growing all around on a nice area that shouts out, 'I want a bench!' looked out over a forlorn forest, or a cave filled with garbage? Don't despair! We have come to make a revolution, and all are invited to the party! Have we sinned with too much love for the Land? Perhaps, but we decided to plant smiling flowers next to clear brooks into which we have released goldfish! This is how we express our wish that the Land of Israel should grow, not shrink!"
The site has close to 500 photographs of brooks and springs that these youth have transformed into beautiful spots on the map of the Shomron.
Netanel Elinson, who directs the new Shomron tourism project on behalf of the Residents Committee and the Helkat HaSadeh Seminar in Elon Moreh, says, "In recent years, Israelis have discovered how beautiful – and safe – mountains of the Shomron are for hiking, and especially how appropriate they are for an afternoon outing."
"It is unbelievable that within no more than a 25-minute drive from Petah Tikva and Modiin, there are so many hiking routes and brooks – with no security risks," Elinson adds.
Among the more popular routes and attractions are sites near the Shilo-Eli-Givat Harel bloc, as well as others near Elon Moreh, Beit El, and more.
The Hebrew website is <http://www.inn.co.il/Special/Content/Tours.aspx/v/228>. The English translation has not yet been prepared...perhaps Anglo readers of INN should request it by writing the site.