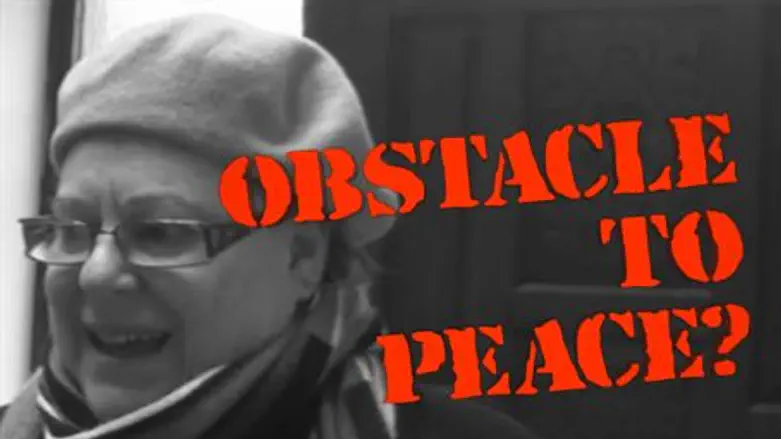 From the Lustiger's videos.
The Other Side
Alan and Barbara Lustiger got on a flight from New York to Israel last winter and decided to conduct a series of interviews with some real life "Jewish settlers" – as Jews residing in Judea and Samaria are often called. The resulting interviews were sent to INN by the Lustigers and are arousing interest on the Internet. Eventually they will be screened in churches and synagogues throughout the U.S.
Film-making on Jewish subjects is a second job for both of the Lustigers – Alan is a computer security expert and Barbara is a program manager – but it is one for which they have a passion. The decision to conduct interviews with Jews in Judea and Samaria was made on the spur of the moment.
"My wife and I were going to Eretz Yisrael (the Land of Israel) last year as a last-minute decision," Alan told Arutz Sheva. "We were not planning to make any movies. The videos we usually make are usually for yeshivas and shuls, and are intended as fund raisers. But we thought, 'while we are there, let's do something important.' The idea I had was: 'Let's do something to make the Jews who live in Judea and Samaria look human.' There was no political motivation. We simply wanted to show their human face because they are usually so demonized by the media."
The filmmakers say they had a remarkable experience. "Everyone we spoke to was amazing," Alan recounts. "There was no bad interview. Everyone was a fascinating person. They were very different from each other: some were secular, some religious... but all of them had something to say."
Summing up his experience, Alan told INN:
"Not only were people cooperative, they were thankful. They are so used to having their words twisted by the mainstream media that they were thrilled to have an opportunity to say what they wanted to say, unfiltered... We tried as much as we could to get a cross-section of the population - religious and secular, native Israeli and American immigrants, old and young, established suburban communities and hilltop caravans.
"Some of our interviews were planned, and some were literally people we picked off the street. Everyone has a great story or strong opinions."
The Lustigers have posted the interviews on their YouTube channel and say that feedback has been very positive.
"We hope it will resonate with Americans who are not ideologically opposed to the Jewish communities in advance," Alan says. "The next step is to make a DVD available for public viewing in shuls and churches." DVDs will also be available for private purchase. INN will let readers know how to obtain the DVD when it is ready.