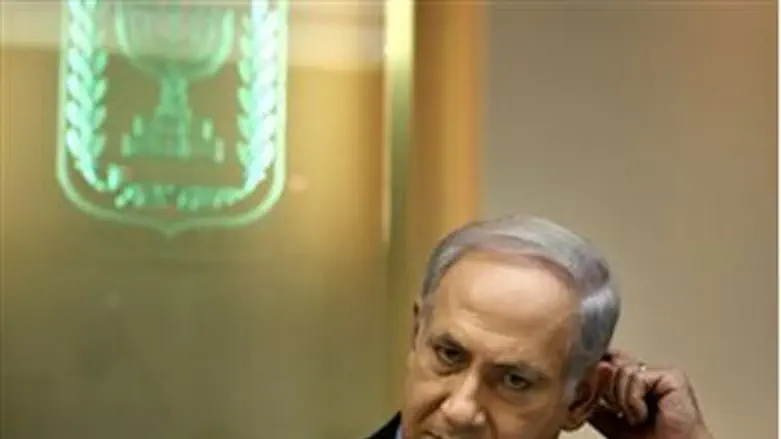 Netanyahu (file)
Flash 90
Prime Minister Binyamin Netanyahu and his "Septet" of trusted ministers met Sunday evening to discuss diplomatic moves expected to take place this week. They were reportedly set to reject a demand that the Quartet (the U.S., the U.N., the European Union and Britain) is apparently about to make, according to which Israel must pledge to enter direct negotiations with the Palestinian Authority and end them within a year's time. 
The preconditions were demanded by PA head Mahmoud Abbas, and the EU has reportedly accepted them. The U.S. is still undecided.
The Quartet will also demand that Israel continue the building freeze imposed on Jews in Judea and Samaria until the one-year-long negotiation period ends and that the guideline for the negotiation will be a return to 1949 ceasefire lines. Israel will reportedly reject these demands, too. 
U.S. Deputy Assistant Secretary of State for Near Eastern Affairs, David Hale, was scheduled to meet in Ramallah Sunday evening with Abbas and to present him with the draft of an announcement that the Quartet intends to issue.
A senior PA source told London-based newspaper Al Sharq al-Awsat that the direct negotiations are a certainty. The source said that Abbas has been under "unprecedented and very heavy pressure from the U.S. and other countries that demand that he sit down to negotiations with Israel even though Israel refuses to commit to anything in advance."
The Arab world, he said, has abandoned Abbas and left him alone in the fray.