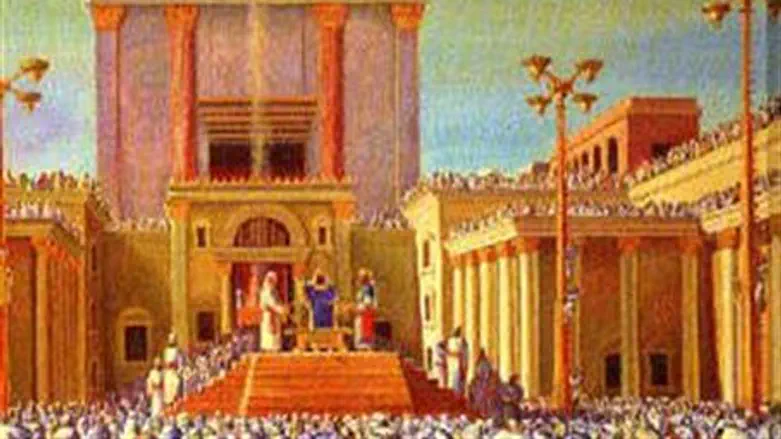 Holy Temple
TempleInstitute.org
Half the Israeli public wants the Holy Temple (Beit HaMikdash) to be rebuilt. This is the main finding of a poll commissioned by the Knesset Television Channel and carried out by the Panels Institute.
The poll was taken in advance of this Tuesday's national day of mourning, known as Tisha B'Av, on which the two Holy Temples in Jerusalem were destroyed, 2,000 and 2,500 years ago, respectively.
Forty nine percent said they want the rebuilding of the Holy Temple, while 23% said they do not. The remainder said they were unsure.
The public is about evenly split on whether they believe it will happen, with a slight edge – 42% to 39% – to those who believe the Third Holy Temple will be rebuilt.
Should the State of Israel take active steps towards the reconstruction? Forty-eight percent said no, while 27% said yes.
The complete results of the poll will be broadcast on Channel 99, the Knesset channel, on Monday night at 9:30 P.M., right after the traditional evening prayers and mournful recitation of the Book of Lamentations in synagogues throughout the country.
Given the current political climate, the onset of construction of the Beit HaMikdash, and possibly even a poll on the subject, is not likely to go over quietly in the Islamic world, which currently has day-to-day control over the Temple Mount. A mere visit to the holy site in the year 2,000 by then-Opposition Leader Ariel Sharon is blamed by Arabs for having sparked the Oslo War, a terrorist onslaught that claimed nearly 1,000 Israeli lives in just over four years – although in truth, the war was planned by leading Palestinian Authority figures for months beforehand.