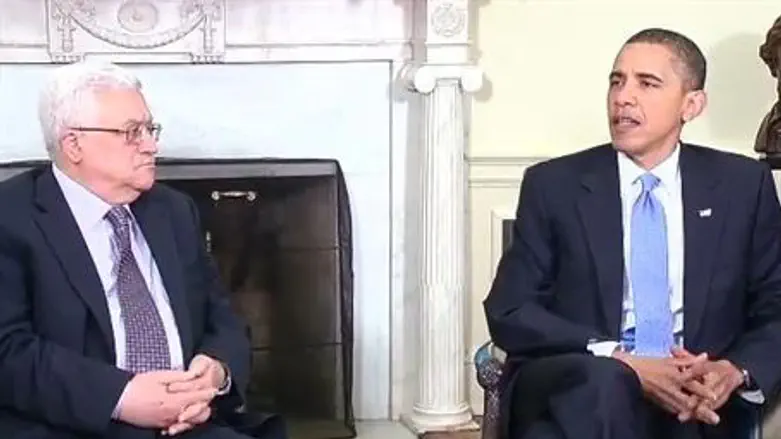 Abbas and Obama
Israel news photo: White House
Support for Israel is close to a record high in America, according to a new Gallup poll. The poll also shows that hopes for the Middle East peace process are low in America and among Palestinian Authority Arabs, but for different reasons.

63% of Americans said they are more sympathetic to Israel than to the PA, while 15% are more sympathetic to the PA. Only 30% said they believe peace between Israel and the PA will eventually arrive, while 67% said it was "doubtful" that there will be peace. They were not asked the reasons for their doubts.

A poll conducted among PA Arabs showed similar levels of pessimism. Dr. Nabil Kukali of the Palestinian Center for Public Opinion found that 43.6% of PA Arabs said they are as optimistic or more optimistic about Israel-PA negotiations than in the past, while 51.2% said they are as pessimistic or more pessimistic than before.

Over 81% of respondents told Kukali that PA leaders should insist that descendents of Arabs who fled Israel during the War of Independence be granted the "right of return" to Israel. This demand should not be dropped "even if the price would be the non-conclusion of a peace deal with Israel", they said. Since Israel has stated clearly that it cannot accept the "right of return" without destroying itself, this demand justifies the majority of PA Arabs who are pessimistic about peace.

Financial compensation is not an adequate substitute for "return" to Israel, said 81.8%.

Only 14% said the demand for the "right of return" should be dropped if it meant obtaining an independent PA state and peace with Israel.

A poll conducted among British Jews showed that most supported recent Israeli military actions. 72% agreed that operation Cast Lead in Gaza, which was widely condemned in Europe, was a "legitimate act of self-defense."

77% said they believe a "two-state solution" in which a PA state is created alongside Israel is the only way to bring peace to the Middle East. However, they were not asked about a two state solution in the context of Arab insistence on the "right of return", which might have affected responses.

Yet another poll, conducted by the Pew research center, shows strong international support for tougher sanctions on Iran. Among those who oppose the Iranian nuclear program in Spain, France, Britain, Germany, the United States, and Russia, the majority support tougher economic sanctions. Among opponents of the Iranian nuclear program in the U.S., Germany, France and Poland, most support military action if necessary, and would nt mind if Israel took that action for them..