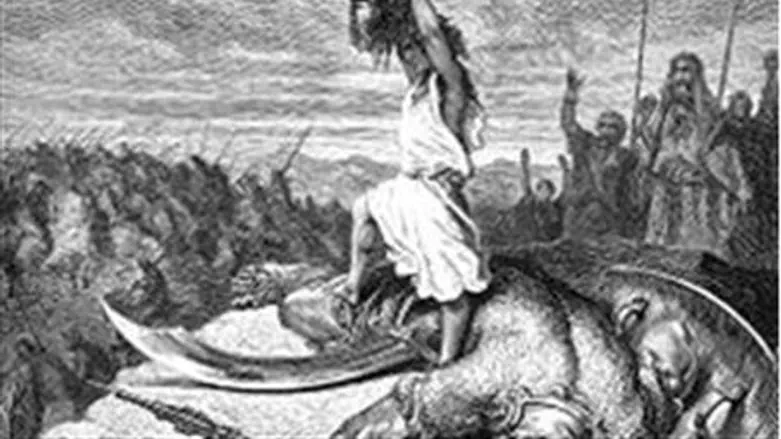 David and Goliath
Engraving by Gustaf Dore
An ongoing archaeological excavation in Tel Tzafit continues to unearth the ruins of what was once the city of Gat – described in the Bible as the hometown of Goliath. Professor Aren Maeir, who is directing the dig, spoke to Arutz Sheva's Hebrew-language news service to discuss the latest finds.

Recent finds from the Tel Tzafit excavation are "fascinating," Maeir said. The site, inhabited at times by Canaanites and at other times by Philistines, has remnants from many periods of history. "We are focusing on the Canaanite period, the Philistine period, and the Israelite period, and for now we're primarily in the Philistine period," he said.

One of the most interesting finds was a piece of writing containing, among other things, Philistine names, some of which were similar to the name "Goliath."

"We've found a rich variety of artifacts" showing that Gat was a major city at that time, he continued. "We are now discovering remnants from metal craft and bronze, and from the destruction of the city at the hands of King Chazel of Aram as described in the second books of Kings."

Findings show that Chazel and his army laid siege to the city until its residents had exhausted their food supply, then attacked. Dozens of buildings were found that were demolished by the invading army.

Other buildings appear to have collapsed in an earthquake, possibly the one mentioned at the beginning of the book of Amos, he said.

The relationship between the nation of Israel and the Philistines was more complex than people tend to assume, Maeir revealed. "The Philistines... were often more than just enemies. We can see this in the Bible as well, for instance, in the fact that Samson married a Philistine woman," he said. There appears to have been crossover between the two cultures – for example, findings show that elements of Philistine cooking became common among the Israelites as well.