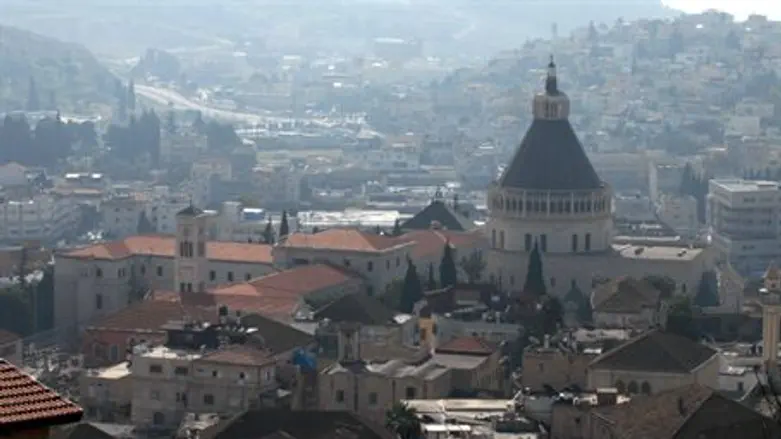 Nazareth
Israel news photo: Flash 90
Seven Arab citizens of Israel have been arrested for membership in a Nazareth-based terrorist group. Members of the group have been linked to the 2009 murder of taxi driver Yafim Weinstein of Nazareth Illit, as well as to violent attacks on Jews and Christians in the Galilee.
The seven were arrested in a joint police and Shin Bet (ISS) operation that was kept under wraps until Monday for security reasons.
The seven were motivated by Salafi Muslim religious belief. Salafism is the school of thought behind international terrorist organization Al-Qaeda.
Members of the group revealed during questioning that they had begun their path to terrorism on the Internet. Online, they found websites pushing the creation of a worldwide Islamic emirate, pictures of weapons and explanations on how to build bombs and carry out terrorist attacks, and terrorist propaganda.
On November 30, 2009, three members of the group decided to murder a Jewish cab driver. The three - Ahmed Ahmed, Aleb Ghanem, and Heider Ziadna - began by ordering a cab from the nearby Jewish city of Nazareth Illit. One of the terrorists entered the cab, and when it reached its destination, shot and killed the driver, 54-year-old father and grandfather Yafim Weinstein.
The other two terrorists helped the murderer escape and worked to hide evidence linking him to the crime. After their arrest, they confessed to the crime and led police to the place where the murder weapon was hidden.
The terrorist group targeted Christian Arabs as well as Jews. Members of the group attacked Christians and Jews on several occasions over the past two years, and on two occasions stabbed their victims. They also threw stun grenades and Molotov cocktails at Jewish and Christian-owned homes, and set fire to a bus.
The terrorists were nabbed before they could carry out their next plan – kidnapping an IDF soldier or stealing his or her weapon. They had also planned to kidnap a Nazareth resident who they suspected of having cursed Mohammed, revered as a prophet in Islam.
The terrorists were caught when Ahmed and Ghanem attempted to enter Somalia in order to join an Al-Qaeda training camp and fight United States soldiers. After capture, they were extradited to Israel, where they revealed the existence of the Nazareth terror cell under questioning. The Nazareth District Court extended their remand by six weeks on Monday.