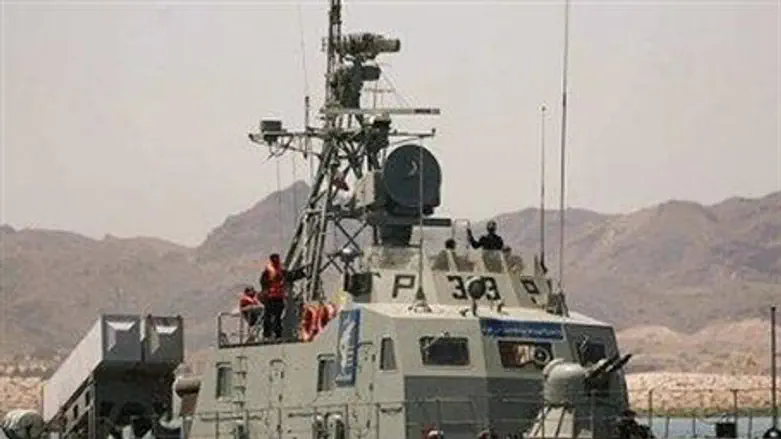 Iranian ship
Israel newsphoto: Fars News Agency
Iran has changed course again and announced Tuesday afternoon it will send a ship to try to challenge Israeli sovereignty over the waters off of Hamas-controlled Gaza, as was agreed in the Oslo Accords.
One day earlier, Iran backed down, saying that the sailing was being put off indefinitely. No reason was given for either announcement, but the resumption of the plan to risk a confrontation with the Israeli Navy came the same day that efforts were intensified in Lebanon for two ships to set out for Gaza.
Analysts have pointed out that despite its verbal bravado, the Islamic Republic's navy is the weakest part of its armed forces. However, Israel is preparing for the worst, and commandos are training for the prospect of meeting up with Iranian suicide bombers on the high seas.
"No one in their right mind can believe that a ship sent by the ayatollahs and their Revolutionary Guards has anything to do with humanitarian aid," said Israeli Foreign Ministry spokesman Yigal Palmor. "I don't think there is one single country in this region and beyond that would let such an ayatollah ship come near its coasts."
The prospect of U.S. warships being involved was played down by Newsweek magazine, which reported Tuesday that Saturday's movement through the Suez Canal of the American warships, led by the giant aircraft carrier USS Truman, was unconnected with an Iranian attempt to reach Gaza.
The movement of the warships was exceptional because of the number of vessels involved, the largest in years, but the Pentagon stated that the USS Truman simply was on its way to relieve the USS Eisenhower carrier in "a routine rotation of forces during a scheduled deployment."
If Iran goes through with its vow to send a ship, any confrontation with Israel is less likely to result in the international sympathy for the Turkish flotilla that clashed with Israeli commandos May 31, when nine Turkish terror activists were killed.
Israel has won support from the United States and the Quartet's Middle East envoy Tony Blair for its announcement that the partial land blockade in Gaza will be significantly eased, thereby undermining complaints that Gaza citizens cannot receive day-to-day goods and merchandise.
Most of the Western world has supported Israel's restrictions on allowing the unsupervised transfer of goods to Gaza, which would allow Hamas to freely import weapons and explosives that it has been trying to smuggle, often successfully.