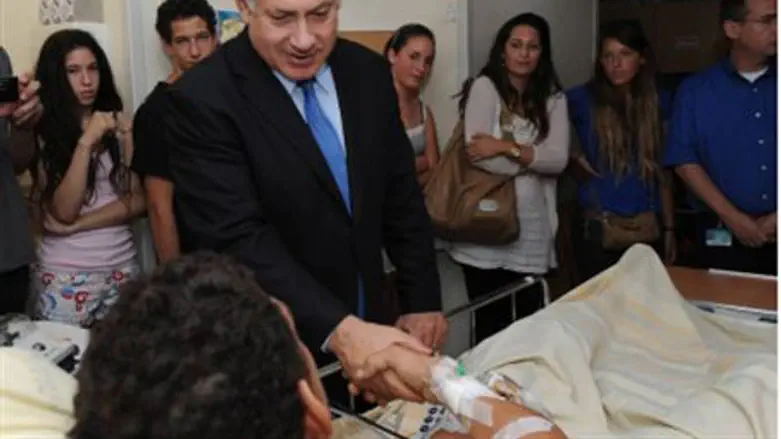 Netanyahu at Tel HaShomer
GPO / Flash 90
Prime Minister Binyamin Netanyahu visited the wounded soldiers from the 'Shayetet 13' Naval Commando Unit Tuesday. The soldiers were admitted to Rambam Hospital in Haifa Monday after suffering injuries from a violent mob while gaining control of the Turkish-sponsored terror-sympathizers' flotilla.
Netanyahu cut short a North American tour and canceled a meeting with United States President Barack Obama in order to return to Israel after the bloody maritime incident. Once his plane landed in Israel after the 12 hour return flight, Netanyahu's motorcade headed directly for Tel HaShomer Hospital where the wounded soldiers are being treated.
Netanyahu encouraged the soldiers and their families, saying: "This ship was not carrying people of peace. You are heroes and it is your courageous and single-minded action that saved your friends."
First Sergeant O. told Netanyahu he was hit by a bullet in the abdomen. "The bullet went right through my stomach," he said, pointing out the entry and exit wounds.
Netanyahu shook his hand warmly and said: "I am no doctor, but this is a painful and difficult experience, and I imagine you saved many people there – yourself and others."
Wounded officer, Lt. D., told the Prime Minister that the people on board the ship grabbed the rappelling rope and tried to prevent the soldiers' descent, but the soldiers managed to overcome the obstacle. "I came down and the second I landed they shot me," he said. "Immediately seven or eight  militants jumped on me and started to beat me with metal rods. I was hit in the head and neck. Another man attacked me with a knife. At this point I lost consciousness for 45 minutes and when I woke up there was light already. My friends had come and rescued me."   
Another soldier in the elite unit, First Sergeant Y., told the Prime Minister that he was assaulted as soon as he reached the boat's deck and was thrown off the deck. As a result he is suffering from a seriously fractured skull. "I hope I can recover in time for the next IDF [physical fitness] championship," he joked nonetheless.
Doctors said that Y.'s speedy recovery is a near miracle and that they believe he will be going home soon.