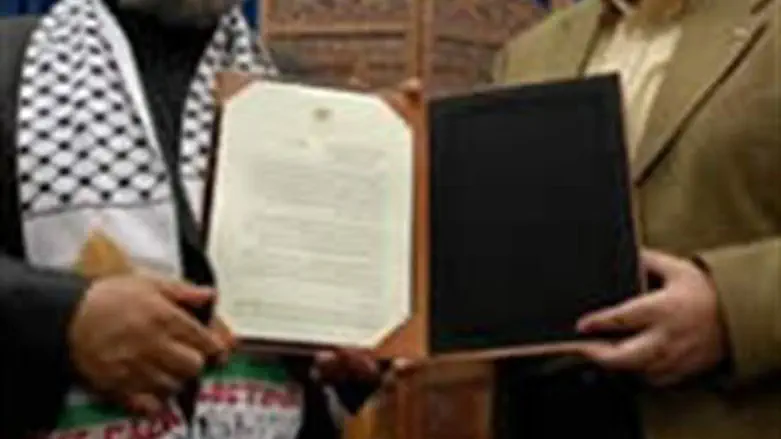 IHH and Hamas leaders
Israel news photo: ITIC
The Turkish organization IHH (a Turkish acronym for "humanitarian relief fund"), the force behind the boats attempting to reach Gaza, has a radical Islamic anti-Western orientation and a history of ties with and fund-raising for Hamas.
A report by the Intelligence and Terrorism Information Center (ITIC) states that in addition to its legitimate philanthropic activities, IHH supports radical Islamic networks, including Hamas, and has supported global jihad elements. In fact, IHH's "orientation is radical-Islamic and anti-American, and it is close to the Muslim Brotherhood, Hamas' parent movement. IHH supports Hamas and does not hide the connection between them."     
Established in 1992 and active in supporting orphans, establishing schools, building mosques, supporting human rights, and the like, IHH has begun in recent years expanding its activities to European countries. 
In practice, ITIC states, "besides its legitimate humanitarian activities, IHH supports radical Islamic terrorist networks. In recent years, it has prominently supported Hamas, [and there is] reliable information that in the past IHH provided logistical support and funding to global jihad networks."
IHH supports Hamas propaganda campaigns in Turkey by organizing public support conferences there, at which senior IHH figures have expressed their support for Hamas and strategy of armed struggle, and their opposition to the policies of the Fatah-run Palestinian Authority.
ITIC further notes that IHH is a member of the Union of Good, an umbrella organization of more than 50 Islamic funds and foundations around the globe that channels money into Hamas institutions in the PA-controlled territories. In January 2008, Israel outlawed 36 associations belonging to the Union of Good, including IHH.
IHH also operates widely throughout Gaza. In January 2009, IHH head Bülent Yildirim met with Khaled Mashaal, chairman of the Hamas political bureau in Damascus, and Mashaal thanked him for the support of his organization.
In 2006, the Danish Institute for International Studies conducted a study on Islamic charity funds and support for terrorism. Over 20% of the study deals with IHH, and it found that IHH had connections with Al-Qaeda and global jihad operatives. In December 1997, Turkish authorities raided IHH offices in Istanbul, finding weapons, explosives, instructions for making homemade bombs, a flag with a jihad message, and documents indicating that IHH members were planning to take part in jihad activities in Afghanistan, Bosnia and Chechnya.
IHH purchased three ships – including the Mavi Marmaris - of the original nine slated to take part in the "humanitarian" effort to Gaza. Its participation in the flotilla is "part of the massive aid it gives Hamas and its desire to make propaganda capital for Hamas and itself," ITIC states.  On May 21, Muhammad Kaya, head of IHH's branch office in Gaza, said there was a plan to send flotillas to the Gaza Strip every month.
The ceremony marking the departure of the Mavi Marmaris from Istanbul was organized by IHH. Participating were Ra'ad Salah, head of the northern faction of the Islamic Movement in Israel, as well as Kazem Sawalha, a Hamas activist affiliated with the Muslim Brotherhood who found refuge in Britain. The large crowd held flags of Turkey, the PA, Hamas, and other organizations affiliated with Hamas and radical Islam.