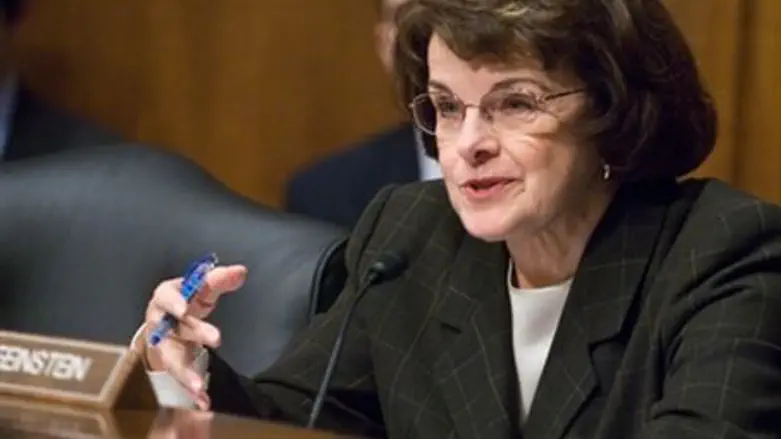 US Senator Dianne Feinstein
Israel news photo: US government
Democratic U.S. Senator Dianne Feinstein of California, whose roots are Jewish and has a large Jewish following, has come to the aid of U.S. President Barack Obama and has drafted a letter encouraging U.S. Secretary of State Hillary Clinton to pressure Israel against "the expansion of settlements in the West Bank and East Jerusalem."
The use of the terms, instead of Judea and Samaria and the united city of Jerusalem, reflects a strongly pro-Palestinian Authority stand that has been challenged by a majority of senators, many of whom who face a tough re-election campaign in this November's vote.
The proposed letter is waiting for co-signatories, according to Politico.com's Josh Rogin.
In a previous letter to constituents last month, Senator Feinstein wrote, "I have grave concerns about the expansion of Israeli settlements in East Jerusalem and the West Bank, and I believe that this issue is a major stumbling block to a peace agreement. In my view, settlement activity should be halted until an agreement is reached."
Prime Minister Binyamin Netanyahu has pointed out that Jewish neighborhoods in the nation's capital city are not "settlements." There are approximately 300,000 Jews living on land that was restored to Israel in the 1967 Six-Day War, but the Obama administration has focused mainly on areas adjacent to predominantly Arab neighborhoods. Most of the Jewish-owned property in these areas was expropriated by Arabs in bloody rioting during the British Mandate period and by the Jordanian government's occupation following the War for Independence in 1948.
"Everyone knows that these neighborhoods will be part of Israel in any peace settlement. Therefore, building them in no way precludes the possibility of a two-state solution," Prime Minister Netanyahu told a recent American Israel Public Affairs Committee (AIPAC) conference.
"It's unclear what more Senator Feinstein wants to push Israel to do," one Republican senator's aide told Politico. "At what point do we really want to force democracies to do things their people don't support?"
A Democratic senator's aide added, " I can't see how this letter is at all helpful for the administration or the peace process right now," noting that it may undermine U.S. President Barack Obama's effort to stop growing opposition among Jewish supporters.
The president already is gearing up for a visit this week by Prime Minister Netanyahu on the heels of the American government's capitulation on the Non-Proliferation Treaty. Although President Obama strongly declared his "commitment" to Israel's national security, his representatives allowed a draft resolution calling for a nuclear-free Middle East without even mentioning Iran.
The American government's surrender on the issue marks an unprecedented reversal of a 40-year policy not to demand Israel's signing the treaty so long as the Jewish State does not carry out any nuclear tests.
The president recently invited 37 Jewish members of Congress to hear his reassurance that he is Israel's friend. At the meeting, Senator Feinstein was one of the few who stated that confronting Netanyahu head-to-head is the best approach.
Last February, Senator Feinstein gathered 30 signatures on a letter to Secretary Clinton (pictured), encouraging her "decision to travel to Israel and the West Bank… [as] another important signal of the Obama Administration's seriousness about dealing with the Israeli-Palestinian conflict.
The letter also lumps together "the launching of rockets from Gaza into Israel" with the alleged "humanitarian crisis in Gaza" and the "ongoing challenge of formalizing an Israel-Hamas truce." The United States formally considers Hamas an outlawed terrorist organization.
The following Senators signed the letter:
Dianne Feinstein
Daniel Akaka
Mark Begich  
Christopher (Kit) Bond  
Sherrod Brown  
Richard Burr  
Maria Cantwell   
Benjamin Cardin    
Thomas Carper    
Robert Casey     
Susan Collins     
Thad Cochran     
Christopher Dodd   
Byron Dorgan        
Richard Durbin       
Russ Feingold      
Tom Harkin   
Amy Klobuchar      
Mary Landrieu      
Frank Lautenberg      
Carl Levin       
Jeff Merkley       
Patty Murray      
Ben Nelson             
John D. (Jay) Rockefeller IV      
Olympia Snowe      
Arlen Specter       
Jon Tester             
David Vitter             
George Voinovich                
Sheldon Whitehouse            
Ron Wyden