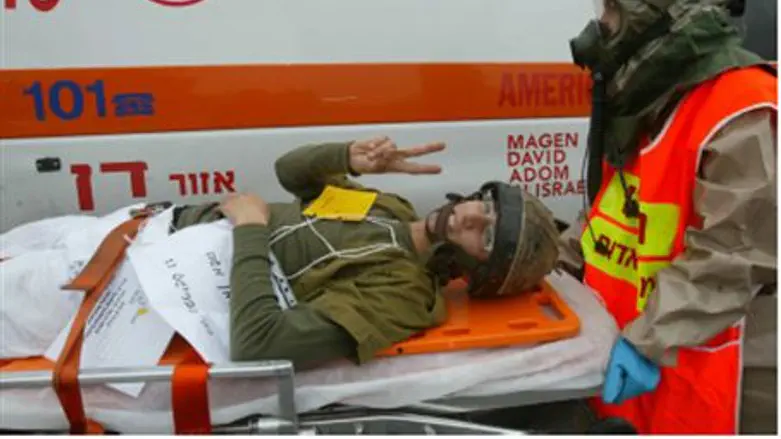 Chemical attack drill (file)
Israel news photo: Flash 90
In case of a war involving the possible use of chemical warheads, communities in Samaria could serve as a refuge for citizens escaping Israel's coastal plain and other regions, a new element in the ongoing national war drill shows. This year's drill is the first to include practice of a plan for mass evacuation of citizens from areas under missile attack to the relative safety of the Biblical heartland.
Home Front Commander Major General Yair Golan has prepared a plan for evacuation of Israelis to Samaria in case of unconventional war, and has circulated it to senior officers in the General Staff and to high ranking defense officials. "The phenomenon of internal refugees will grow in the next war," Golan predicted. The Home Front plan calls for coordination between the IDF and the Samaria communities. The plan will be rehearsed later this week.
One reason for evacuating citizens to Samaria in case of chemical attack is that the altitudes there are higher than in the coastal plain. The poison gas emitted by chemical warheads begins to sink when it enters the air, accumulating in the lower altitudes. Another is the fact that Samaria is not as heavily populated as the coastal area: the density of the population in the coastal cities makes it a more devastating target for the enemy to hit. A third consideration referred to is that Samaria is heavily dotted with Arab villages and cities and that a chemical attack on Samaria would necessarily hurt the Arabs too – a presumably unwanted outcome for Muslim aggressors.
The Home Front plan may or may not have been based on a plan presented last year by Samaria Local Authority Head Gershon Mesika, for evacuation of about half a million Israelis to Samaria in case of war, and their temporary absorption there. The plan included the hosting of families fleeing the coastal area in Samaria families' homes; the construction of massive "tent cities" in young communities that are often referred to as 'outposts.' 
"Samaria is the heart of the country," Mesika explained. "Besides our natural right to the Land of Israel, Samaria is of vital security importance to the state, especially in the face of unconventional missiles."
"Residents of Samaria are used hosting the residents of bombarded cities from Israel's outlying regions," he said. "We did so in the [1991] Gulf War, in the Second Lebanon War [2006] and during Cast Lead [2008-9], and we will do so in a greater emergency as well, like the one the State of Israel is rehearsing for tomorrow."
"Samaria is the correct response to the unconventional weapons threat and to threats from Iran," Mesika added.  
While Judea and Samaria are often portrayed and perceived as a relatively dangerous area for Jews, mostly because of rock attacks on motorists and the presence of a large PA population, the IDF drill appears to show that the area is potentially much safer in case of unconventional war.