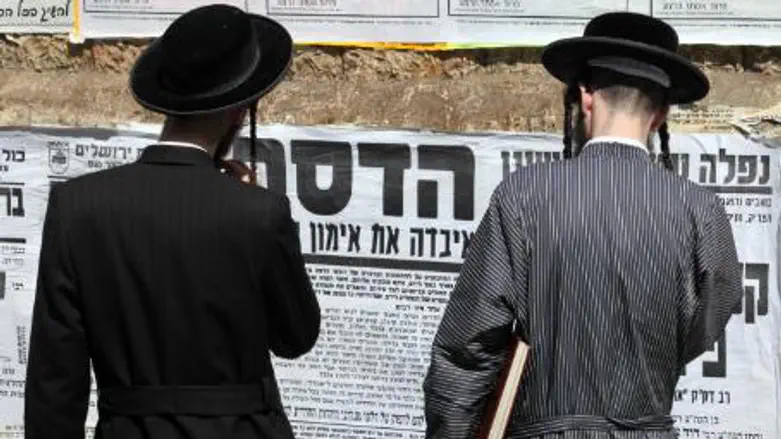 Ultra-Orthodox Jew
Flash90
A new study by the Ministry of Industry has revealed the employment picture of Israel's hareidi religious community, as well as the type of places where hareidi men and women work, their monthly salaries and how many families have Internet in their homes.
The overall employment rate of Israel's hareidi religious sector, including both men and women, is 43.2 percent, with 65 percent of unemployed men saying they would not work in a mixed setting with female or non-religious co-workers.

Israel's hareidi religious community is reported to be roughly 650,000 people, comprising 8-9 per cent of the Israeli population. The number of the community's men and women of working age, between 20 and 64, is estimated at approximately 235,000 and is expected to grow by 7 percent a year.
The demographic makeup of the community breaks down to 33 percent Lithuanian, 29 percent Hassidic, 21 percent Sephardic, 7 percent nationalist and 10 percent unclassified.

A large percentage of hareidi religious workers holds civil service positions, mostly within its own education system. A total of 13.7 percent of the men work in industrial jobs compared with 22.3 percent of non-religious men, and 4.8 percent of hareidi religious women work in industrial jobs, compared with 11 percent for non-religious women. 
The average income for the community's household is approximately 6,100 shekels ($1,600), compared with the average monthly income of approximately 12,000 shekels for other communities.
About 40 percent of hareidi religious families possess computers at home, with 24.6 percent of them having Internet connections.