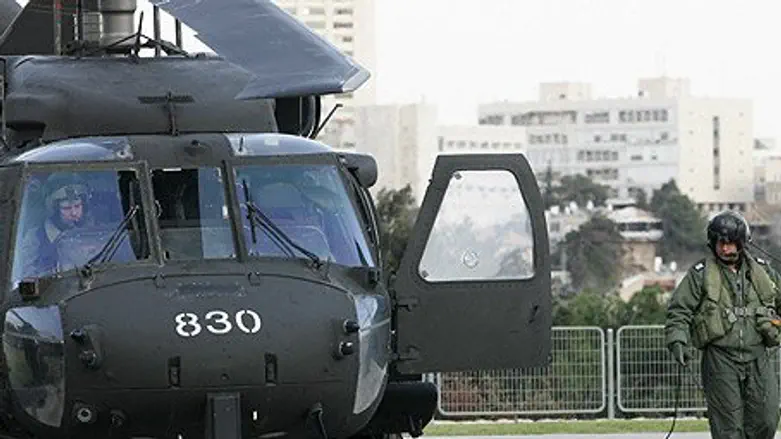 IDF helicopter at hospital in Ashkelon
Israel news photo: Flash 90
An Israeli hospital has given emergency first-aid to the three-year-old daughter of a Hamas leader involved in talks to free kidnapped soldier Gilad Shalit and then escorted a Jordanian plane that flew her to a hospital in Amman. The girl was in critical condition in Gaza after having undergone what apparently was an unsuccessful heart operation.
Defense Minister Ehud Barak and IDF Chief of Staff Gabi Ashkenazi, with the knowledge of Prime Minister Binyamin Netanyahu, immediately agreed to Jordan's King Abdullah's request to Israel to allow the transfer of the daughter of Elham Fathi Hammad, Interior Minister of the de facto Hamas government. Arab media, including the English-language Jordan Times, reported that the girl was transferred to Jordan but omitted that Israeli doctors at Barzilai Hospital in Ashkelon treated the child for several hours in life-saving measures after the army arranged for her transfer through the Erez Crossing.
A Jordanian helicopter, escorted by an Israeli jet, then ferried the girl and her mother from the Israeli hospital to Amman.
The girl's father, Fathi Hammad, publicly thanked Jordan and King Abdullah for their efforts. He did not mention Israel, which is usually referred to by Hamas as the "Zionist enemy."
Israel has treated hundreds of Gaza Arabs in its hospitals despite the impression, falsely generated by mass media, that the Jewish State has blockaded Gaza and has caused the deaths of local Arabs by not allowing them to enter Israel for care.
Meanwhile, Israeli soldier Shalit is assumed to be alive in Gaza nearly four years after Hamas and Army of Islam terrorists kidnapped him in a deadly attack on an IDF checkpoint at a Gaza crossing. Several weeks before the attack, Hamas threatened to carry out kidnapping operations of Israeli soldiers in order to release Arab terrorists.
Hammad previously has stated, "Hamas is not the Taliban. It is not al-Qaeda. It is an enlightened, moderate Islamic movement."